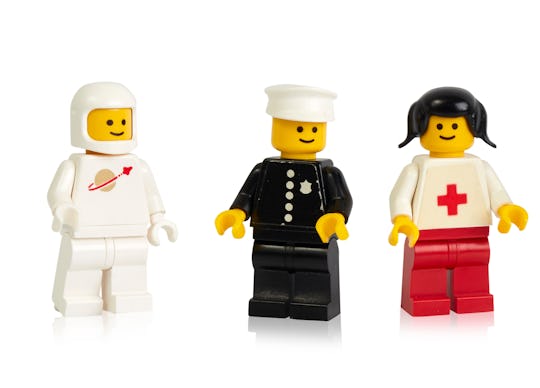 Courtesy of LEGO
These Pics Of LEGO Minifigures From 1978 Prove They Got It Right The First Time
One of the tiniest icons of the toy world is hitting a milestone birthday this year, making kids of all ages a bit nostalgic. The beloved LEGO minifigures turn 40 this year, proving these teeny toys have major staying power. For generations, children the world over have enjoyed countless adventures with these toys. It's all part of the brand's lasting appeal. "Lego allows all levels of complexity. But a child can do their own thing at any level. They can built a pirate ship, for example, and then mash it up with completely different things," said executive chairman and former CEO of the Lego Group Jorgen Vig Knudstorp in the Independent. And the minifigures add a lot of personality to that imaginative play.
First launched in 1978, the original LEGO minifigures featured mobile limbs, simple expressions, and that iconic painted smile. The first line featured 20 different figures, among them a doctor, police officer, and astronaut. Although the line has expanded tremendously since these early days, today's minifigures are made from moulds that are almost identical to the original ones. In fact, modern minifigures can be mixed and matched with their counterparts from 1978. And here's a fun fact: all LEGO minifigures stand exactly four LEGO bricks tall, which means they fit into the various LEGO Systems perfectly. Yep, it gives playtime even more possibilities.
Since their initial launch, LEGO minifigures have had a major impact on the toy world. In fact, over 8,000 different minifigures have been introduced since 1978, enough to fill the average toy box several times over. Pirates, ghosts, paramedics, engineers, veterinarians, and Vikings have all been represented. In the late 1990s and early 2000s, franchising took off. Characters from the Star Wars and Harry Potter franchises debuted, and these licensed minifigures were the first to be designed without the characteristic yellow face.
In 2014, the LEGO minifigures' fame was solidified with the release of The LEGO Movie. Celebrities such as Chris Pratt, Will Ferrell, and Elizabeth Banks leant their voices to the film, making characters like Emmet and Wyldstyle beloved around the world. A tremendous critical and commercial success, The LEGO Movie grossed $469,160,692 worldwide, according to Box Office Mojo. With two spinoffs released, as well as a sequel planned, this movie franchise shows no sign of slowing.
Today, the LEGO minifigures are as popular, beloved, and imaginative as they've ever been. For 2018's kids, there are over 650 different minifigure heads available. That's a lot of room for expression, in other words. There's a minifigure baby, a minifigure in a wheelchair, female firefighter figures, and dads with baby carriers. With a huge selection of additional details like freckles, glasses, and hair choices, kids aren't limited in their play choices.
From the blocky prototypes of the mid-1970s to the familiar shape everyone knows today, the LEGO minifigures are an iconic toy. Although plenty of new expressions, activities, and characters have been introduced over the years, the LEGO minifigures are just as appealing now as they were to '70s kids. Here's to many more years of awesome, imaginative play for the toys that offer endless fun in a tiny size.