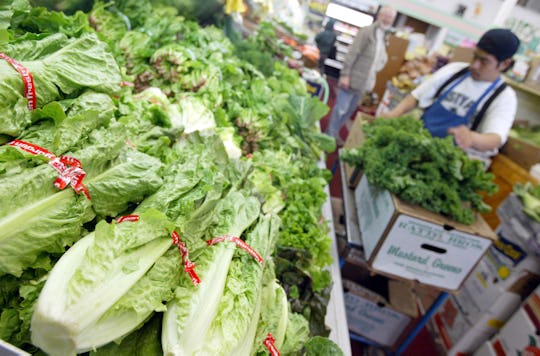 Justin Sullivan/Getty Images News/Getty Images
The Lettuce E. Coli Outbreak Is Getting Even Bigger, & Here's What You Need To Know
Following the Food and Drug Administration's warning on April 12 about an E. coli outbreak involving chopped romaine lettuce (yep, this includes pre-packaged salad mixes), The Centers for Disease Control and Prevention released a report on Wednesday with an update on the scary situation. Unfortunately, the CDC's report stated that the lettuce E. coli outbreak is getting even bigger — and a total of 16 states are now affected. Of course, this is a frightening time for families who regularly eat romaine lettuce, and many parents have a lot of questions about the outbreak. That being said, here's what you need to know about the E. coli lettuce outbreak.
On April 12, it was reported that the E. coli outbreak involved seven states: New Jersey, Idaho, Connecticut, Pennsylvania, Missouri, Ohio, and Washington, according to TIME. Reports of illnesses began sometime between March 22 to March 31, and 17 people developed an E. coli infection during this time frame, according to the Daily Mail. Making matters even more troubling is that six people required hospitalization after becoming infected, and one person suffered from kidney failure, according to USA Today. Although no one has died as a result of the outbreak (what a relief), the bad news is this strain of E. coli — known as E. coli O157:H7 — has spread to additional states.
The CDC informed the public on Wednesday that 53 incidents of E. coli infections have been reported across 16 states, according to NBC New York:
Alaska
Arizona
California
Connecticut
Idaho
Illinois
Louisiana
Michigan
Missouri
Montana
New Jersey
New York
Ohio
Pennsylvania
Virginia
Washington
Additionally, 18 of these cases were reported after the CDC's last update on April 13. The states battling the greatest number of infections at this time are Pennsylvania and Idaho, according to the CDC's case count map.
So, what can you do to keep you and your family safe during this unsettling time?
First off, avoid eating all variations of chopped romaine lettuce — especially if you don't know where it originated from. The FDA suspects the infected lettuce was grown in Yuma, Arizona, so definitely ask your local retailer (or waitstaff if you're dining out) about where your produce was farmed. And even if you do have assurance that the lettuce didn't come from Yuma, it's probably best to skip romaine lettuce for now until the outbreak subsides.
As for any chopped romaine lettuce you might have lying around in the fridge, the CDC recommends you throw it out ASAP. Although it might be painful to do so (salad kits are expensive, I know), you don't want to risk an infection. After you throw away the lettuce, wash your fridge with warm soapy water to ensure you've eliminated any threat of lingering E. coli. Life is super fun these days, right?
Your next course of action is to learn about E. coli symptoms. After three to four days following the infection, a person will typically experience symptoms of diarrhea, abdominal cramping, and nausea and/or vomiting, according to the Mayo Clinic. If you or a loved one experiences any of these symptoms, it's best to a consult a doctor about your concerns.
Lastly, arm yourself with the most relevant and updated medical information about the outbreak. The CDC and FDA are doing an awesome job of keeping people updated about the latest developments, and you can easily access information about the outbreak on their respective websites. From the case count map to sound medical advice, you can learn *a lot* simply by checking in with the CDC and FDA.
But most of all, try not to freak out during this outbreak. As scary as all of this might be (and it is frightening, especially for people with health anxiety like myself), the best thing you can do right now is to stay informed and educated as the situation develops. And if you have any pressing health concerns, consult your trusted doctor ASAP.