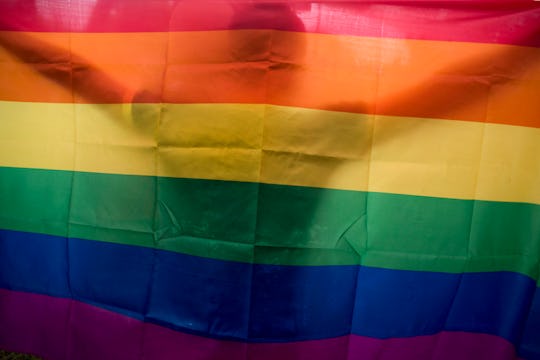 Borja Sanchez Trillo/Getty Images News/Getty Images
The Pride Flag Is Changing In An Amazing Way
Around the country, LGBTQ communities are celebrating Pride Month. One of the most iconic symbols of the LGBTQ community — the rainbow pride flag — is changing, getting a fresh new update for the first time in its nearly 40 year history. The original six-color rainbow flag has been redesigned to include eight colors, starting with black and then brown, as a symbol of racial inclusivity within the LGBTQ community. It's an important and necessary step in addressing the racial intersectionality of queer identity, recognizing that people are not just one-dimensional beings.
The More Color More Pride campaign was developed by the Office of LGBT Affairs in Philadelphia, Pennsylvania and Tierney, a local marketing agency. Amber Hikes, director for Philadelphia's Office of LGBT Affairs, said in a statement that the new pride flag would make its "world debut" at Philadelphia's City Hall. Hikes told CNN, "To see this at City Hall is such a profound statement." The new pride flag was officially raised last Thursday.
Hikes has been encouraged by the interest in the new pride flag, telling CNN that other cities such as Chicago, Los Angeles, Miami, and New York have reach out to her and her office in support of the new design. "Right off the bat, it has absolutely started a conversation, certainly in this city and beyond," Hikes said.
The inclusion of marginalized members within the LGBTQ community in the community's most prevalent symbol is especially important just days after the first year anniversary of the Orlando Pulse nightclub shooting, where 49 people were killed, many of whom were queer people of color.
The rainbow flag became a symbol of the LGBTQ community when Gilbert Baker, a gay man from San Francisco, was asked to create a unifying symbol for the gay rights movement by gay rights leader and city supervisor Harvey Milk in 1978. He told the San Francisco Travel Association that he knew his "whole life was going to be about the Rainbow Flag."
The original rainbow pride flag had eight colors — pink, red, orange, yellow, green, turquoise, blue, and purple — each with their own special meaning. According to San Francisco Travel, pink stood for sex, red stood for life, orange for healing, yellow for the sun, green for nature, turquoise blue for art, indigo for peace and harmony, and violet for spirit. The flag was then reduced down to seven colors when it was first mass produced, omitting the pink stripe — Baker said pink fabric was just too expensive; the turquoise and indigo blue stripes were then condensed into a single royal blue and the flag into its six-color design known today.
Sadly, the rainbow flag's original creator is unable to share his thoughts on the rainbow flag's updated design: Baker died in March at the age of 65, just three months before his 66th birthday during Pride Month. Patrick Hardy, executive vice president at Tierney, said in a statement:
The rainbow flag is an iconic symbol of the LGBTQ community. In the spirit of Gilbert Baker's original design, we believe that adding black and brown to this historic flag will fuel a continuing dialogue about diversity in a community that celebrates inclusion, and help to acknowledge the contributions people of color make every day.
Just as the fight for LGBTQ rights has changed and grown since the rainbow flag first flew over San Francisco, the new pride flag reflects the changing face of the queer community in America — and it's long overdue.