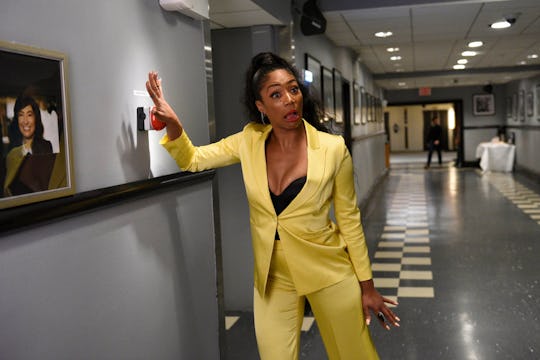 Rosalind O'Connor/NBC
'The Lion King' Screen Test Skit On 'SNL' Will Make You LOL
By now I'm sure you've all heard about the new Lion King live-action movie coming out, which will star none other than our benevolent overlord Beyoncé Knowles. So naturally, Saturday Night Live did a sketch about the upcoming movie — one of the few pieces of good news the U.S. has gotten all year. The Lion King screen test skit on SNL will give you life. In the sketch, the comedians on SNL act as celebrities trying out for the new movie. Suffice to say, it was amazing.
Tiffany Haddish, who you probably recognize as the breakout star from the hit summer movie Girls Trip, was the host of Saturday night's show, opening the episode with a monologue about Donald Trump's excellent weave and the fact that if she pays $4,000 for an Alexander McQueen dress you had better believe that she is wearing that dress at every opportunity she can. But back to the matter at hand.
In one of the first skits of the night, it seemed like everyone in the cast got together to act in The Lion King screen tests skit. Haddish, particularly as Mary J. Blige, was hilarious. The skit said that though Beyoncé and Donald Glover were going to be starring in the movie, some other celebrities auditioned as well. And let the games begin.
What was so glorious about this particular sketch, was that every single one of the SNL cast members (including Haddish) embodied the celebrity they were supposed to be imitating absolutely perfectly. Mary J. Blige and Celine Dion sang. Oprah presented Baby Simba to the world as if she were showing an audience one of her "favorite things." LL Cool J licked his lips a lot. Eminem just walked around in circles. Lin-Manuel Miranda rapped. And then cried. It was just what I needed to get even more pumped for the remake.
What's great about doing celebrity impressions on a show like Saturday Night Live is that it's a classic gag that never gets old. A lot of people on Twitter appreciated the fact that the simple set up for this particular sketch really allowed each member of the cast to shine in their own way without asking too much of the audience by way of bizarre plot or confusing set up. And it definitely played to Haddish's strengths as a comedic performer. (I kind of want her to host SNL every week from now on to be completely honest).
Though none of these screen tests were actually real, I have a sneaking suspicion that if they were real, then this is exactly how they would go. I mean, I'm pretty sure that Sterling K. Brown is extremely serious like that all the time, aren't you?
Of course, the real version of The Lion King is already so perfectly cast that I don't know if I could handle anything more. In case you've missed it somehow because you've been on a beach and away from your computer for the past week, a picture has been making the rounds on social media with the cast for the upcoming 2019 reboot of the film. And it stars all of your favorite people. Beyoncé will star as Nala, with Glover as Simba. The movie will also star James Earl Jones, Alfre Woodward, John Oliver, Billy Eichner, and Keegan Michael Key, to name a few. Maybe Cardi B. and Kit Harington would have made great additions to the movie, but with a cast like this, do we really need them?
Regardless, I can't wait for the live-action film to come out. But in the meantime, I'm certainly going to watch this faux screen test clip again and again. Thank you, SNL.
Check out Romper's new video series, Romper's Doula Diaries:
Watch full episodes of Romper's Doula Diaries on Facebook Watch.