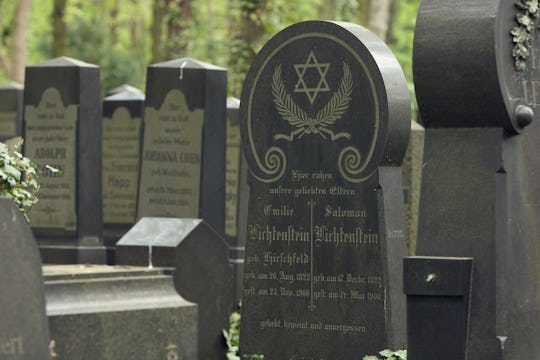 Sean Gallup/Getty Images News/Getty Images
A List Of The Vandalized Jewish Cemeteries
More than 100 headstones were knocked over and damaged at a Jewish cemetery in Philadelphia Sunday, the latest in a list of Jewish cemeteries that have been vandalized in the United States this year. According to The Guardian, the damage was discovered by a man who had been visiting the city's Mount Carmel Cemetery that morning and found that three headstones belonging to his relatives had been knocked over, among many others. The incident is a frustrating and hurtful example of the continued bigotry aimed at Jewish communities in the United States, something that many have speculated has been bolstered by the rise of the so-called "alt-right" and its prominence as a result of President Donald Trump's campaign and current administration.
Although Trump did publicly condemn anti-Semitism during a visit to the National Museum of African American History and Culture on Feb. 21, according to CNN, he faced criticism for not making such a statement sooner — particularly following other reports of cemetery vandalism, and a number of threats made against Jewish community centers during the first month of his presidency. He also faced backlash from critics for giving a speech on International Holocaust Remembrance Day that avoided actually mentioning the estimated 6 million Jewish victims who died in the Holocaust, instead using words like "victims, survivors" and "those who died," according to The Independent.
Cemetery vandalism is certainly nothing new, but the rate at which they are happening seems to be. Only a week before the Philadelphia cemetery was vandalized, more than 150 headstones at the Chesed Shel Emeth Society Cemetery in St. Louis were damaged, according to USA Today.
And then there are the bomb threats: on the same day that the St. Louis cemetery was vandalized, nearly a dozen JCCs received bomb threats. On Feb. 22, Jonathan Greenblatt of the Anti-Defamation League reported that it had also received a bomb threat, and in January, an additional 48 JCCs in 26 states also received threats, according to CNN.
While Trump's reluctance to speak about and condemn these acts seemed particularly puzzling, given that his daughter, son-in-law, and three of his grandchildren are actually Jewish, many have questioned the influence of Trump's chief strategist, Steve Bannon, the former head of "alt-right" outlet, Breitbart News. Though Bannon has previously denied a claim by his ex-wife that he made anti-Semitic remarks, according to The Guardian, many have continued to speculate that he harbors ill will towards the Jewish community. Most recently, according to The Chicago Tribune, Bannon recently gave a speech at the Conservative Political Action Committee in which he spoke of a "corporatist, globalist media," a group he condemned as being "adamantly opposed to [Trump's] economic nationalist agenda." While that doesn't sound overtly anti-Semitic, some have seen his remarks as very concerning rhetoric.
For one, Chicago Tribune columnist Rex Huppe argued that "globalist media is a loaded term that bubbled up out of anti-Semitic conspiracy theories of a media controlled by Jewish elites," and called it "a concept akin to 'international bankers,' cabals of wealthy Jews supposedly plotting to take over the world." Steven Goldstein, executive director of the Anne Frank Center for Mutual Respect agreed with Huppe's view, and said that it "doesn't happen by accident" that "during the week in which the Trump administration has been under a microscope for anti-Semitism" Bannon chose to refer to the press using what he called "some of the most unfortunate anti-Semitic terms in history."
Goldstein said,
Globalist and corporate media — these are code words of anti-Semitism, and when they're used by a man with an anti-Semitic history such as Steve Bannon, you'd have to be living in the Stone Age not to connect the dots.
Desecrating a cemetery is, in general, a heinous act, but it's made worse by the fact that Jewish cemeteries, synagogues and businesses have long been popular targets for vandalism. As Clemson University history professor Michael Meng explained to The Washington Post, synagogues and cemeteries were commonly attacked by the Russian empire in the 19th Century, and then again, of course, throughout Europe during World War II, including Kristallnacht in Nov. 1938, when riots under the Nazi regime resulted in the destruction of countless Jewish cemeteries in Germany and Austria, along with more than 200 synagogues and an estimated 7,500 Jewish-owned businesses, according to the United States Holocaust Memorial Museum.
While the damaged headstones at the various Jewish cemeteries around the country are certainly no Kristallnacht, the fact that they are being targeted at all is a reminder of the anti-Semitism that still runs deep. And given that this is also now a time in which many American immigrants are feeling uneasy about the political climate — and when the "alt-right" movement seems perhaps stronger than ever — the significance of the vandalism against Jewish cemeteries can't be ignored.