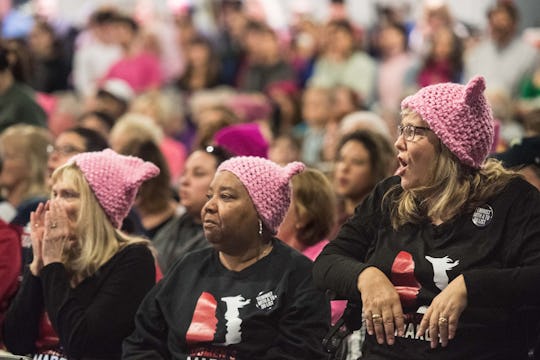 Sean Rayford/Getty Images News/Getty Images
The List Of Speakers Attending The 2018 Women's Marches Is Seriously Impressive
Last year, inspired by the original Women's March on Washington, millions of women in cities across the globe came together for sister marches fight for equality for all and women's rights, and show their resistance against the Trump administration. The movement continues this year and the list of Women's March 2018 speakers includes a wide range of women from fields such as politics, entertainment, nonprofits, and more. Each city will likely offer its own lineup of great speakers, but the major cities do boast some big names.
The Women's March movement aims to "harness the political power of diverse women and their communities to create transformative social change." This women-led movement provides education on a variety of issues through grassroots activism and outreach. Members of the movement aim to dismantle systems of oppression through "nonviolent resistance and building inclusive structures guided by self-determination, dignity, and respect," according to the organization.
Last year, an estimated 2.6 million people participated in 673 marches in all 50 U.S. states and 32 countries, according to USA Today. The movement continues this year with marches planned for Saturday, Jan. 20 and Sunday, Jan. 21, and those in major cities include Chicago, Las Vegas, Los Angeles, New York City, and Washington D.C., among others.
Chicago
The 2018 Women's March on Chicago will include big names like K. Sujata, president and CEO of the Chicago Foundation of Women, and Suzette Wright, an ex-employee of Ford whose sexual harassment story was recently reported by The New York Times. Following the number of allegations of sexual harassment at Ford plants in Chicago, including Wright's, published in The New York Times, Ford apologized to its employees in an open letter on Dec. 21.
Carrie Kiley, Women's March on Chicago organizer said in a statement that officials are "thrilled to have such an extraordinary and powerful group of women and their allies unite to raise their voices on the many issues that continue to affect women every day." These speakers will aim to get citizens of Chicago to vote in the coming election and Kiley went on to explain that the Women's March on Chicago has played a pivotal role in promoting the mission of the Women's March movement:
This event is all about demanding progress for women and getting involved in this year's election—the most important mission for all of us in 2018. Women's March Chicago has been at the forefront of this movement, and it's a real honor and pleasure to join with such a powerful group of women dedicated to change.
Other Chicago speakers include Tahera Ahmad, Bridget Gainer, Lisa Madigan, Quiana McKenzie, Channyn Lynne Parker, Chakena Sims, Tom Steyer, and Celina Villanueva.
Las Vegas
Big names in Las Vegas for the 2018 march will include actor Marisa Tomei, Cecile Richards, president of the Planned Parenthood Federation of America and Alicia Garza, co-founder of Black Lives Matter and special projects director of the National Domestic Workers Alliance, according to the event's website.
This year's anniversary march will be held in Las Vegas, launching the #PowerToThePolls event. Nevada was chosen to commemorate the first year since the Women's March on Washington because it will be a swing-state in the 2018 election and could greatly impact the Senate in 2018. Additionally, it has experienced some of the "most pressing issues facing women in our nation today," including gun violence and sexual assault allegations.
Other Las Vegas speakers include Ashlee Marie Preston, Paulette Jordan, Sheila Jackson Lee, John Lewis, Maria Teresa Kumar, Anna Galland, Maria Urbina, Kimberlé Williams Crenshaw, Catherine Cortez Masto, Jacky Rosen, Dina Titus, William Barber III, Melissa Harris-Perry, and Nina Turner.
Los Angeles
About 750,000 people took to the streets of Los Angeles last year to promote gender equality and other important issues, according to NBC News. The 2018 March on Los Angeles will offer its participants music, art, community booths, and speakers. The march will be aligned with the national Women's March Unity Principles of ending violence, protection of reproductive rights, LGBTQIA rights, workers' rights, civil rights, disability rights, immigrant rights, Indigenous people's rights, and environmental justice.
Hollywood celebrities Scarlett Johansson, Laverne Cox, and Olivia Munn will all be speaking at the 2018 march in Los Angeles, according to the Los Angles Times. Other celebs such as Olivia Wilde, Adam Scott, Nicole Richie, and more will be in attendance. Other speakers at this sister march include Soraya Deen, Sue Dunlap, Jan Robinson, Yolie Flores, Cristina Garcia, Janice Hahn, Lindsey P. Horvath, Laura Jiménez, Abbe Land, Nury Martinez, Lauren Meister, Holly J. Mitchell, Maria Louise Roman, Hillary Selvin, Hilda L. Solis, Katherine Spillar, Jerilyn and Stapleton.
Although the Women's March on New York City and the Women's March on Washington D.C. have yet to announce their list of speakers on their events' Facebook pages, each city had a number of impressive names attend their marches last year. For example, author Chirlane McCray and actresses Cynthia Nixon and Helen Mirren all attended the New York City rally in 2017 and gave speeches. Even Yoko Ono was there. The Women's March on Washington was the protest that inspired them all, so it makes sense that big names would be in attendance. America Ferrera, Ashley Judd, Michael Moore, and Scarlett Johansson all spoke at that rally last year.
If you can't make it to one of these larger marches, consider attending a smaller sister march near you. For a complete list of Women's March 2018 locations and events, visit the movement's official Facebook page.
Check out Romper's new video series, Romper's Doula Diaries:
Watch full episodes of Romper's Doula Diaries on Facebook Watch.