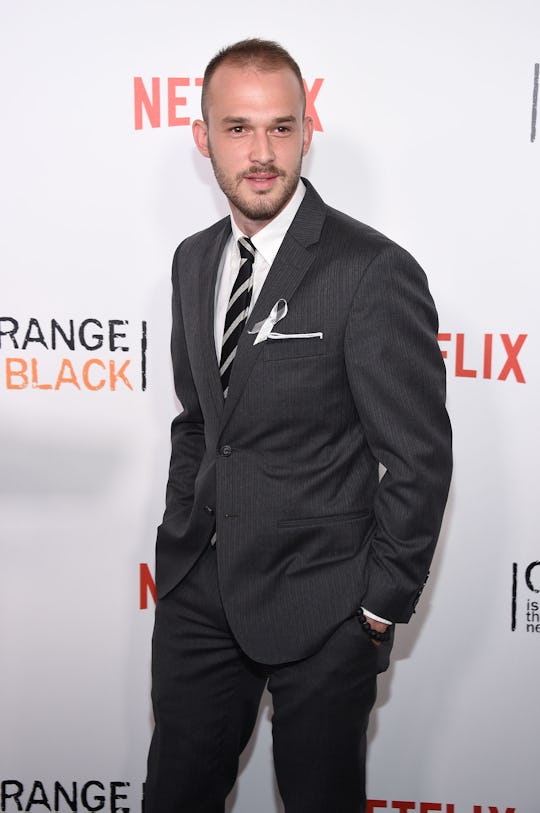 Dimitrios Kambouris/Getty Images Entertainment/Getty Images
'OITNB' Season 5 Tried To Find Humor In A Bleak Situation
Warning: Season 5, Episode 4 spoilers ahead! When the riot started in Litchfield prison on Orange is the New Black, many of the guards were quickly taken hostage. They were subjected to many of the same horrors they had inflicted on the inmates: violence, humiliating cavity searches, and lack of respect for their most basic physical boundaries. The fourth episode attempted to inject some humor into the situation by holding a talent competition in which the inmates made the guards put a show while they judged them American Idol-style. But whether you thought the Litchfield Idol performances on Orange is the New Black were funny or not is going to end up a matter of personal preference.
Orchestrated by everyone's least favorite zany meth-heads Angie and Leanne, the talent competition was a clear attempt at levity that was mostly in good faith. It was the kind of random silliness the show has made work in the past, but your mileage may vary on whether it worked in the current climate of the show. The shift in tone from drama to comedy is even more jarring as the stakes raise and it can be hard to laugh at something stupid when just a few moments or episodes ago you witnessed something awful.
The talents themselves were innocent enough. Mormon guard Blake performed some Joseph Smith-tinged magic tricks. Luschek attempted an edgy stand-up set that was dubbed "a little too Jay Leno, but not in a good way" by Angie. MCC's PR guy Josh told jokes in Italian that were mostly incomprehensible to the inmates. Dixon sang, and Caputo followed suit after trying to have a heart-to-heart with the women that didn't go over well. McCullough was felt up by Davis while they did a double-act in which his hands stood in for hers — described by the judges as cheesy but satisfying.
But the centerpiece of the scene was a lengthy Magic Mike striptease by Stratman. It was something he chose to do all on his own and he certainly made the most of his time in the spotlight, showering Leanne with particular attention to the displeasure of Angie. Despite the wild applause he got from the audience, however, Stratman lost out on winning Litchfield Idol because Angie (who was in position of Humphrey's gun and therefore held all the power) decided Josh's performance was more her speed.
Look: it's a fine and funny enough break from the bleakness in a season that's very intense and often hard to watch. But it's not as easy as it used to be to separate the broad humor from the genuinely dark moments on Orange is the New Black, at least for me. Litchfield Idol may have provided some audience members a funny respite, but that might not be the case for everyone watching.