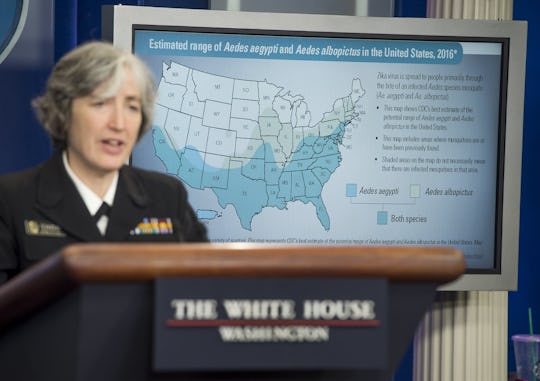 SAUL LOEB/AFP/Getty Images
The Long-Term Effects Of Zika Could Be More Dangerous Than Anyone Realized
The Zika virus has been a headline-grabbing news item for months now, and for good reason: the mosquito-borne virus has led to a startling number of babies in Brazil being born with a severe form of the birth defect microcephaly — so much so that women of childbearing age have been advised to delay getting pregnant. And now, as the mosquitoes carrying the virus are making their way to the United States (Puerto Rico and other American territories are already struggling with outbreaks), scientists and government officials are trying to learn as much as they can about the virus, and what can be done to stop it. So far the link between Zika and microcephaly is clear, meaning that pregnant women and their babies are at high risk. But what are the long-term effects for Zika on adults, and children who contract the virus after birth? According to TIME, a lot about the effects of the virus on these populations is still unknown, but, according to the Centers for Disease Control, emerging evidence seems to suggest it could be more dangerous than previously thought.
As knowledge of the Zika's virus' devastating effect on fetuses grew, most of the understanding about adults who contracted the virus is that it probably wasn't a big concern. After all, most adults who get Zika are likely to be either completely asymptomatic, or to experience mild symptoms, like fever, rash or body aches. But Dr. Anne Schuchat, principal deputy director of the CDC, recently said in a press conference that the Zika virus is "scarier" than they originally thought, and now, according to The Atlantic, the virus is starting to be linked to serious neurological effects in adults, too.
In addition to the threat of microcephaly in babies, Zika can also cause the autoimmune disorder Guillain-Barré, and possibly inflammation of the brain and spinal cord, as well as damage to nerve cells. In rare instances, Zika could also lead to death — according to CNN, the first death from Zika in Puerto Rico has been reported, from a bleeding disorder thought to occur after the Zika virus resolves. Even though it still appears to be the case that the initial reaction to the virus itself is not particularly dangerous for most people, the potential for serious — and in some cases, deadly — long-term effects is beginning to suggest that, when it comes to Zika, no one is safe.
The seemingly-endless bad news surrounding Zika is even more concerning given how difficult it is to actually fight its spread and the fact that lawmakers are still unable to agree over funding prevention efforts makes it even worse. According to the Washington Post, despite the White House's request for $1.9 billion in funding to prepare for the inevitable Zika outbreak, the Republican-controlled Congress has stalled for months on providing funding. So far, Zika funding in the U.S. has come from re-purposed Ebola funds, something which many officials consider far less than ideal.
In a briefing, White House Press Secretary John Earnest criticized Congress for stalling to make a decision about Zika funding:
We have an opportunity to get out ahead of this disease. The sense is not that we can prevent it entirely, but we can begin to take steps right now, before the disease is widespread in the United States, that can prevent it from having the worst possible impact on our public health. And because of Congress' refusal to act, our ability to take those steps is quite limited right now.
Given the increasingly worrisome information about the potential effects of the Zika virus, what should people be doing to reduce their risk? Without a vaccine or other intervention strategy, personal prevention still seems to be the best option. Using bug spray, staying inside air conditioned buildings with window screens, covering up exposed skin and being mindful of emptying all standing water where mosquitoes can breed will be important steps to keep people safe. And since Zika can be transmitted sexually, using condoms (especially during pregnancy), is important. Want to urge your government representatives to hurry it up with a funding solution? You can do that too, either by contacting them directly, or signing this Change.org petition.
Unfortunately, right now it seems like we haven't heard the last of the bad news about Zika. And that is not very comforting.