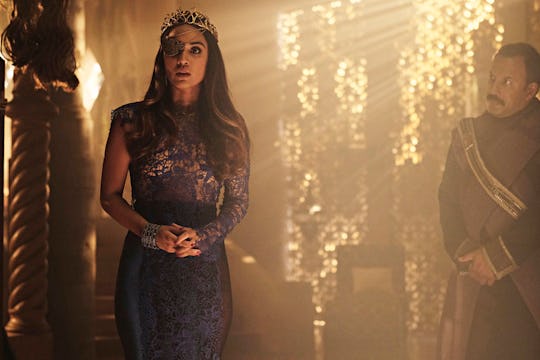 Eike Schroter/Syfy
'The Magicians' Summer Bishil Has A Message For Her Female Viewers & It's Empowering AF
Something magical is happening on the set of The Magicians — but for once I'm not talking about the conjuring of spells. I'm referring to the phenomenal character development that's been happening to Fillory's High Queen Margo for the better part of three seasons. Played flawlessly by Summer Bishil, Margo has become a fully-formed, three-dimensional character who is redefining what it means to be a ruler — and a magical one at that. During a recent interview with Romper, Bishil discussed what the role of Margo means to her and the message she hopes the character sends to all of her female viewers.
The release of Wonder Woman — which starred Israel-born actress Gal Gadot — sent women of all ages flocking to the theater, eager to see Amazonian warrior Princess Diana shatter the stereotype of what it means to be a superhero who, yes, also happens to be a woman. Bishil strives to break just as many stereotypical barriers on the small-screen and is using Margo as a means to shed light on a stigma she herself has faced in the past.
"I have fought against ethnic stereotypes for a long time in the industry and it has not always been easy," says Bishil, whose mother is part-Mexican and father is of Indian decent. "So to play somebody that is so charismatic and gregarious and funny and brave and courageous and all of the things that she is, was incredibly important to me."
When fans first locked eyes on Margo, Bishil knows it may have been easy for some to instantly write her character off as superficial. But that would've been a mistake because Margo has proven to be anything but predictable. "Something that's helped me shape [Margo] in a way that is not appearance-obsessed is that she's a performer and she uses her body as her performance piece," Bishil explains. "She's emancipated from these ideas of what sexuality should look like and how you should demonstrate it."
Anyone familiar at all with Margo knows she's a force to be reckoned with. She exudes a sense of power, strength, and courage you can't help but admire. This character truly owns who she is, regardless of her physical appearance. Don't believe me? Just look at the way she's handled losing one of her eyes. "Take her eye away, put her in a burlap sack and she will find a way to make it her own," Bishil adds. "And it has nothing to do with wanting others to see typical or conventional esthetic value. I think it's her way of expressing her identity and her right to express her identity."
In Episode 5 of Season 3, titled "A Life in the Day," the Fairy Queen forces Margo to marry someone for the use of their army, which as you can imagine she's none too happy about. But instead of letting the situation tear her down, Bishil sees Margo using that anger as an incentive to restore magic so she can take her power back. "She is overwhelmingly angry that she does not have any real power or say in how she governs Fillory," Bishil says. "Magic is a tool that will provide her leverage. So essentially magic, in layman's terms, is currency to her." And, basically, she's ready to make a huge withdrawal.
Margo isn't your typical protagonist. She makes mistakes. She's flawed. But that's a big part of what makes her so relatable. It allows women to see themselves in this character, not an idyllic representation of how the world deems they should look or act. Bishil knows this, which is why she continues to use her character to knock down stereotypes and prove that Margo is a badass ruler with or without magic.
Check out Romper's new video series, Romper's Doula Diaries:
Watch full episodes of Romper's Doula Diaries on Facebook Watch.