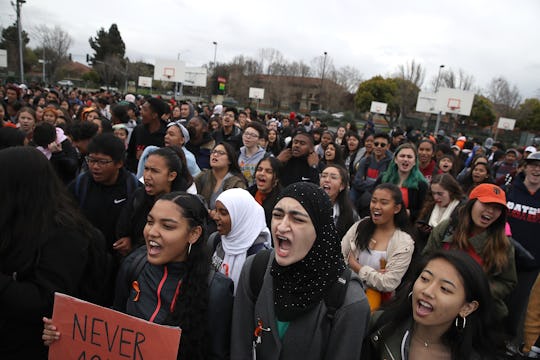 Justin Sullivan/Getty Images News/Getty Images
Here's The Official March For Our Lives Route In DC, So You Can Plan Ahead
On Feb. 14, a 19-year-old assailant with an AR-15 rifle fired bullets through the halls of Marjory Stoneman Douglas High School in Parkland, Florida. He killed 17 people in what was the deadliest school shooting since 26 lives were claimed at Sandy Hook Elementary School in Connecticut in 2012. The brave survivors of the shooting have organized a march for political action against gun violence on March 24 called the "March For Our Lives." And now, the March For Our Lives route in DC has been revealed: Students will march down DC's iconic Pennsylvania Avenue, according to the map on the official site.
The March For Our Lives Rally, which will begin at 12:00 p.m. Eastern Time on March 24, will take place on Pennsylvania Avenue between 3rd and 12th street NW, according to the site. Pennsylvania Avenue has symbolic significance as it connects the White House and the United States Capitol and is often called "America's Main Street." It is also the location of official parades and processions, as well as protest marches like the women's suffrage parade and speeches like Martin Luther King's famous "I Have a Dream" speech.
According to Thrillist, pedestrian entrances are located at Pennsylvania Avenue and 12th Street, NW, Constitution Avenue and 7th Street, NW, and Indiana Avenue and 7th Street, NW. There will be no access to the rally from the east, the march's website states.
There is a designated vehicle drop point at the intersection of 7th Street and Maryland Street, SW. From there, attendees can proceed north on 7th Street, across the National Mall, to the entrance at 7th Street and Constitution Avenue, NW, according to the site. There is another drop off point at the K St NW Access road. For those driving, here is a map of parking garages near the National Mall. Carpooling is recommended.
Anyone looking for a bus departing from their town should consult bus-finding platforms from Rally Bus, Board Our Bus and Bus.com to join an existing bus or start their own, the site also stated. Anyone looking to travel to the start of the route by train should know that the rail system will open at 7 a.m., and riders are encouraged to travel as early in the day as possible. Trains will depart end-of-line stations every eight minutes, and more information can be found be found here.
Those arriving at RFK Stadium should travel to the Washington Monument Grounds by Metro, and the stop is called Stadium-Armory (a WMATA map can be found here). The closest Metro station to the start of the rally is Archives, which is located on the yellow and green lines, and other nearby stops include the Federal Triangle on the blue, orange, and silver lines, and Gallery Place on the red line.
Selected stations may be closed due to crowd management and/or security concerns, so be sure to check out your options ahead of time to avoid hold-ups. Details will be posted on online and on WMATA social accounts @wmata and @metrorailinfo.
There are hundreds of thousands of people expected to attend the march, so expect food and car traffic. March 24 is the day that everyone who's been pushing for gun safety is going to talk about it, loudly.
"People are saying that it's not time to talk about gun control — and we can respect that," Cameron Kasky, an 11th-grader at the Parkland school, told ABC's This Week. "Here's a time: March 24th in every single city. We are going to be marching together as students begging for our lives."
Among those expected to walk down Pennsylvania Avenue are celebrities like Ariana Grande, Jennifer Hudson, Miley Cyrus, and Demi Lovato, according to CNN. Other famous faces like Oprah Winfrey, George Clooney, and Steven Spielberg have also donated money for the march.
Anyone who can't make it to walk Pennsylvania Avenue on March 24 can follow the hashtags #marchforourlivesdc and #MFOLDC on social media to spread the love or join marches in their own communities.
Editor's note: After publication, we discovered this article did not meet our editorial standards. There were portions that did not correctly attribute another source. It has been updated to meet our standards.
Check out Romper's new video series, Romper's Doula Diaries:
Watch full episodes of Romper's Doula Diaries on Facebook Watch.