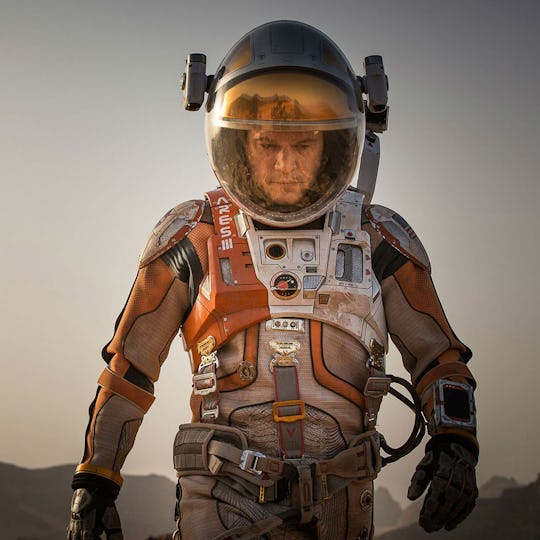 'The Martian' Is Nominated For A Golden Globe, But Is It Really A Comedy?
The Hollywood Foreign Press may have made a not-so-stellar decision. The Martian is nominated for a Golden Globe in the Best Motion Picture - Comedy category. And although the movie has surely earned it's spot in the nominations, many are wondering if The Martian is, in fact, a comedy. The movie centers on Mark Watney, an astronaut accidentally stranded on Mars by his colleagues, and tells the story of his quest to survive and Earth's efforts to get him home. Not exactly LOL-worthy when you see it on paper.
There's no question that the movie is a top contender this awards season. The Martian has a 93 percent rating on Rotten Tomatoes, and critics praised the plot. Rolling Stone's Peter Travers wrote in his September review that, "you won't find a space epic that's more fun to geek out at than The Martian." The movie also earned Golden Globes nominations in two other categories: Ridley Scott for Best Director - Motion Picture and Matt Damon for Best Actor in a Motion Picture, Musical or Comedy category. But fans and critics aren't disputing the potential accolades. Rather, they are wondering if The Martian should go up against The Revenant and Room instead of Spy and Trainwreck?
Peter Travers saw the humor in it, and commented on the categorization in his Rolling Stone interview. "This suspenseful survival tale, smartass to its core, slaps a smile on your face that you'll wear all the way home," he said. But even though the The Martian isn't dark and dismal, plenty of tweeters don't get the decision.
Wherever you stand on the debate, it'll be exciting to see how the comedy categories play out. Watch the Golden Globe Awards on Sunday, Jan. 10 at 8 p.m. ET/5 p.m. PT on NBC.
Images: 20th Century Fox