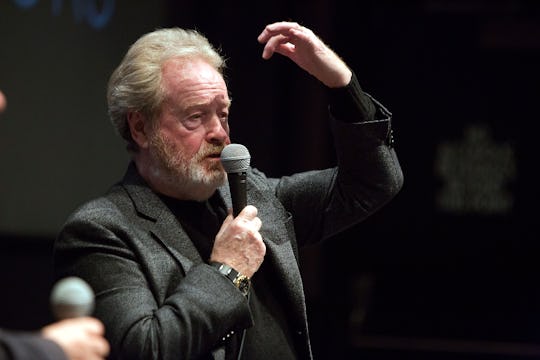 'The Martian' Wins Golden Globes For Best Picture, Musical Or Comedy (Yes, It's A "Comedy")
On Sunday night, the 2016 Golden Globes yet again gave out the coveted, golden statues to the best of the best in the TV and film industry. The awards were handed out by the Hollywood Foreign Press Association, and many believe that they're a good predictor for who might win Academy Award in February, according to Newsweek. Among the winners Sunday night, The Martian won Best Musical or Comedy Motion Picture at the 2016 Golden Globes, a film directed by Ridley Scott and starring Matt Damon.
The nominees for Best Motion Picture: Musical or Comedy included Joy, Spy, The Big Short, The Martian, and Trainwreck, according to the Golden Globes website. The Internet predicted that Trainwreck would win the award, according to Entertainment Weekly.
The category got a little weird this year with the addition of The Martian as a nominee. The Los Angeles Times reported that The Martian was a part of the category back in November, and debate immediately ensued about whether the drama was actually funny enough to be in a comedy category. The film, which is based on the novel with the same name by Andy Weir, is a darkly-humorous but mostly-dramatic space rescue story. The movie's main character, Mark Watman, played by Matt Damon, cracks jokes throughout the time he's stranded Mars trying to survive, but it's definitely not a comedy in the same sense that Trainwreck is.
Joy, starring Jennifer Lawrence, is similar. The semi-biographical drama follows one woman on her journey to creating her own million-dollar business. It's strange that these kinds of films made it into the comedy category, especially since they had to compete against more traditional comedies like Trainwreck and Spy, both of which have famous comedians in their star roles.
But still, that didn't stop The Martian from winning. It also didn't stop Damon from winning Best Actor in a Musical or Comedy Motion picture, proving that just a little comedy in an overall dramatic story just might be somewhat more compelling than the kind of comedy that Spy or Trainwreck. When he accepted his award, Damon noted that it had been 18 years since he won a Golden Globe. He and Ben Affleck won a Globe for their screenplay of Good Will Hunting in 1997, according to the Los Angeles Times.
Scott got Twitter's attention Sunday night when he didn't stop talking when the well-known "please-leave-the-stage" music started playing during his acceptance speech.
He was going to get his moment to thank people, dammit! Because, really, how often is it that a space rescue film wins Best Comedy or Musical? Probably not very often, so he deserved all of his time.
Image: Randy Shropshire/Getty Images Entertainment