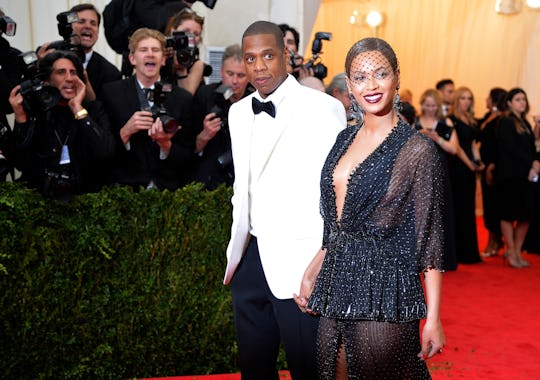 Mike Coppola/Getty Images Entertainment/Getty Images
Beyoncé Released Her Twins' Photo On An Important Day
On Feb. 1, 2017, the world stood still. Why? Because Beyoncé announced that she was pregnant. Not only was she pregnant, but she was pregnant with twins. And she revealed it in the most Beyoncé way possible — Instagram photoshoot as only Queen Bey deserves. Then, on June 19, reports started circulating that Beyoncé had given birth to the second comings, though nothing had been confirmed by the star. (Her father, Mathew Knowles did tweet about it, but that's a whole other issue.) On July 13, the first photo of Beyoncé's twins arrived, and the meaning of the day she shared it has a significant meaning.
Almost a month went by before Beyoncé released the new photo of her twins, and before you go and say, "Yeah, I know, I've been refreshing Instagram nonstop since that fateful Saturday," hear me out on why it is pretty important that she waited. After the world learned that Beyoncé had (reportedly) given birth, details were fuzy. What did she have? Are they healthy? Why were fans finding out supposedly a few days after it actually happened, according to multiple publications. Fans later learned that the twins were kept in the hospital for a "minor issue," and were later released.
But, the importance behind her photo being posted today exists in the caption she used to post the photo. "Sir Carter and Rumi 1 month today," it reads, with a bunch of family emojis that will make even the darkest crevice in your heart glow a little. Beyoncé shared this photo with her fans, introducing her twins to the world, on their one month birthday. Yet still, mystery remains on exactly when they were born.
Ever one for mystery, Beyoncé picked a time to share the photo of her twins that would still allow there to be some unknown behind the birth of her twins. If you are on the west coast, Beyoncé celebrated her twins' one month birthday on July 13. If you're on the east coast, Beyoncé is saying that her twins turned one month on July 14. Since Beyoncé is said to be living in a Malibu rental home for the time being, we can assume she, geographically speaking, was in California when posting (or approving the post to go live) on July 13.
So, while we don't know exactly what day the twins were born (though June 13 seems like a safe bet), we can all appreciate the fact that Beyoncé waited until the twins' one month birthday to share the photo of them. You know that this isn't just an off-the-cuff snap JAY-Z took of Bey in the backyard, so the significance is definitely touching. Now, we shall wait with baited breath to see if we, as fans, are fortunate enough to see more of the beautiful babies. (But hey, Beyoncé, you also don't owe any of us more pics.)