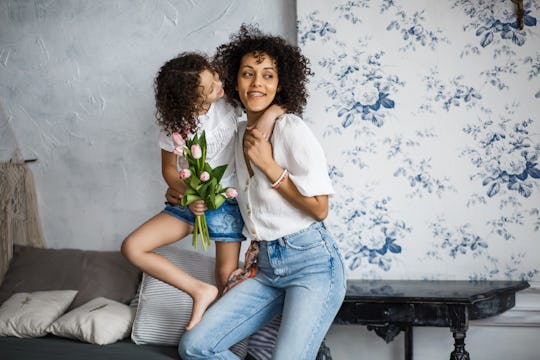 Anna Vovk/Shutterstock
Here's What All Of Those Flowers In Mother's Day Bouquets Actually Mean
Walk into a flower shop this time of year and you'll be surrounded by a riot of color. Picking out the perfect bouquet for mom when so many stunning options are in bloom can be tough, but knowing the meaning of different Mother's Day flowers can help you put together a gorgeous arrangement.
Christina Stembel, the founder and CEO of Farmgirl Flowers, shared her thoughts on flower meanings with Romper. "I think the majority are most familiar with the language of flowers that was formalized in the Victorian age," she said via email. In those days, the tulip represented passion, while yellow carnations could represent "disdain" for an unwanted suitor, according to the Smithsonian Gardens (the Victorian age actually sounds a lot wilder than I was always led to believe). Those meanings have obviously changed quite a bit (as has the fact that women have a lot more options for declining dates they're not interested in). Stembel explains that there's a whole new "contemporary language of flowers" to consider when you're choosing an arrangement, making some way more appropriate than others.
Here are seven different popular Mother's Day flowers, and what certain types and colors of each can convey to moms.