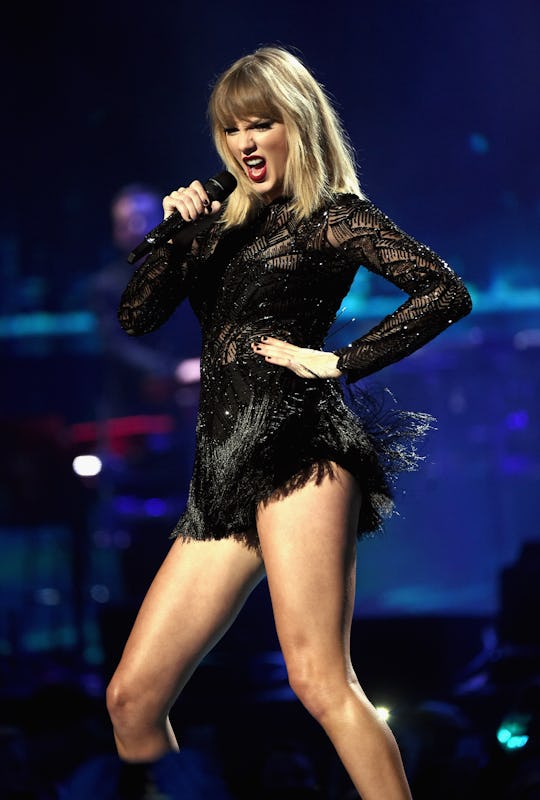 Kevin Winter/Getty Images Entertainment/Getty Images
Here's The Problematic Message You May Not Have Noticed In "I️ Did Something Bad"
It may have only just been released, but so far, both critics and fans seem to agree that Taylor Swift's highly-anticipated new album, Reputation, was well worth the wait. Since she first proclaimed that "the old Taylor" was dead back in August with the release of the album's first single, "Look What You Made Me Do," it became pretty clear that Swift was about to deliver an unapologetic middle finger to everyone who may have wronged her since the release of 1989. But while that definitely seems to be the case on at least a few tracks, according to TIME, others miss the mark. The message "I Did Something Bad" sends to teen girls is actually pretty toxic, and while it might be a satisfying listen (especially when it comes to speculating which of Swift's famous exes may have inspired it), the reality is that it's mostly just a petty revenge song boasting about romantic manipulation.
In all fairness, Taylor Swift's songs have always basically been a master class in how to air your dirty laundry in public. She's been writing about her exes and frenemies since her early days as a country star, and given the tumultuous past few years of backlash, breakups, and headline-making feuds (see: Kanye West and Kim Kardashian, Katy Perry, Calvin Harris, etc.), it would have been a complete surprise if she'd released an album that didn't actually address it.
But some songs work better than others. "I Did Something Bad" is the third track on Reputation, and it's pretty much as catchy as it is totally savage — which, given what seem to be Swift's goal with this album, is probably a compliment. And don't get me wrong, I'm totally here for any woman who decides she's totally done being polite, and is ready to give the world a piece of her mind. But "I Did Something Bad" shouldn't be any girl's blueprint for navigating relationships as a strong and confident woman — even if they've been wronged in the past.
In the first line, Swift sings, "I never trust a narcissist/but they love me." Instead of steering clear though, she takes a different route:
So I play 'em like a violin/And I make it look oh-so-easy/'Cause for every lie I tell them, they tell me three/This is how the world works/Now all he thinks about is me.
Yet it's not just narcissists Swift likes to mess with — in the second verse, she takes aim at smarmy playboys (Harris? Hiddleston?), and sings:
I never trust a playboy/but they love me/So I fly 'em all around the world/And I let them think they saved me/They never see it comin', what I do next/This is how the world works/You gotta leave before you get left.
In other lines, Swift says "he had it coming," and notes, "they're burning the witches, even if you aren't one." But as justified as she may be, it's clear she's doing more than just settling a score: in the chorus, she sings, "They say I did something bad/Then why's it feel so good?" and adds, "Most fun I ever had/And I'd do it over and over and over again if I could."
On the one hand, fair play — if you've been screwed over by an ex, then good for you for getting back at them. But "I Did Something Bad" seems to say that the "screwed" has now become the "screwer," and that, hey, it's pretty awesome. Maybe you're bad news, but messing with you is a good time.
It's the kind of stuff revenge fantasies are made of, and maybe the song is just Swift serving up some hypothetical musical revenge. But if my daughter were a teen who just realized she was played by romantic partner she didn't even realize was bad news, I wouldn't want her to learn that from now on she should be on the IDGAF offensive, playing with others' heads and hearts to have the upper hand, and making sure she "[leaves] before [she gets] left." I'd want her to get the hell out, and try to stay clear from similarly bad-news partners in the future, hopefully without becoming jagged and cynical and mean.
The reality is that we've probably all had at least a moment or two when we've wished we could give karma a helping hand with some Reputation-style retribution, and maybe we've followed through on it, too. At the very least, the idea makes for a good song. But in the past, Swift has also sung about what it's been like to be on the receiving end of a toxic lover's emotional manipulation ("Dear John," anyone?), and it sounded pretty awful. "I Did Something Bad" might be in line with her album's M.O., but it's not exactly a good example of a grown-ass woman learning from her past romantic mistakes — or how to be a good partner to someone else in the future.
Either way, the song's a good listen, and the album is a pretty great comeback for someone whose been dealt a lot of hate and criticism over the years. And there is something kind of satisfying about seeing a more assertive Taylor Swift, too. But there's a fine line between standing up for yourself and just being vindictive, and whether or not Swift intended to pass on a less-than-ideal message, it's definitely one that her young fans don't need.