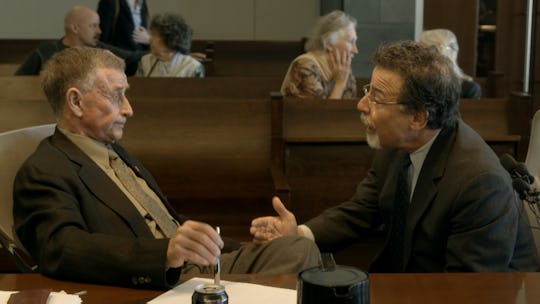 Netflix
Michael Peterson's Murder Conviction Is Much More Complicated Than You Know
Netflix's The Staircase began filming in the immediate aftermath of Michael Peterson's indictment for the alleged murder of his wife, Kathleen. She died in 2001 and Michael was later convicted of the crime in 2004, but Michael's legal troubles continued long past that. He was in court as recently as 2017. And while the Michael Peterson verdict confirmed his guilt in the eyes of the law, he has always proclaimed his innocence. (Romper reached out to Michael Peterson's representatives and Netflix for additional statements.)
Michael was initially charged with first degree murder, though not everyone believed he killed Kathleen based on the circumstances of her death. She had been found at the base of the staircase in their Durham, North Carolina home after a quiet night at home watching movies and drinking wine. Michael was allegedly outside at the time of his wife's accident, then returned to find her bruised and bloodied body at the bottom of the stairs before calling 911. She had lacerations on the back of her head that some interpreted as sign of a beating, and there was quite a lot of blood at the scene which resulted in investigators theorizing that what happened to Kathleen was not an accident.
Michael insists to this day that he is innocent and that his marriage to Kathleen was a happy one, but he was nevertheless convicted of her murder. At his 2004 trial, he was sentenced to life in prison. At first, it seemed like that might have been the end of the story, but it wasn't. Actually, it wasn't even close.
According to a timeline of the Peterson case compiled by a local North Carolina news affiliate, WRAL, an appeal was filed in October 2005. Tom Maher, one of the lawyers on Michael's defense team, claimed that Michael did not get a fair trial because of certain details of his life that had been made public. Michael was bisexual and had been having sexual relationships with men outside of his marriage; the prosecution had found emails between him and a male sex worker whom he never actually met. Though Michael claimed that Kathleen was well aware of his sexual preference and affairs, it was suggested that the information may have given the jury an unfair bias.
It had also been revealed that a past friend of Michael's named Elizabeth Ratliff, the mother of his adopted daughters, died in an eerily similar way to Kathleen. Ratliff's murder was never solved, but the coincidences (she fell down the stairs and Michael saw her not long before she died) may have influenced the jury as well. Michael's lawyers felt the assumptions about his involvement with Ratliff's passing were inflammatory, as stated by David Rudolf in The Staircase. But in September 2006, the appeal was rejected.
There were several more rejected appeals over the next few years and, in addition to being found guilty in the criminal trial, Michael was deemed responsible in a wrongful death lawsuit brought against him by Kathleen's daughter, Caitlin Atwater. She was awarded $25 million, but the News & Observer reported that with accumulated interest, he now owes her "another $30 million."
The Ringer reported that Michael sought a retrial in 2011, which was granted; he was released from prison and placed under house arrest until his next trial. It never came to pass, however, because of the plea deal he accepted. In February 2017, Michael entered an Alford plea that, according to the News & Observer, "acknowledged that prosecutors had enough evidence to convict him of voluntary manslaughter." He accepted a guilty verdict on the lesser charge and was able to go free on time served. But the Durham District Attorney Roger Echols said in a statement:
It has always been, and remains today, the State's position that Michael Peterson is responsible for the death of Kathleen Peterson. [Prosecutors] decided to enter into this plea agreement after conducting an extensive review of the physical and testimonial evidence. It is clear that some evidence that was admitted during the 2003 trial may no longer be available or deemed admissible at a second trial. This decision was made after careful consideration and in consultation with the family of Kathleen Peterson.
The complicated case resulted in a complicated verdict. Though Michael Peterson is considered guilty, many feel that the truth still hasn't been uncovered about what happened the night Kathleen died.