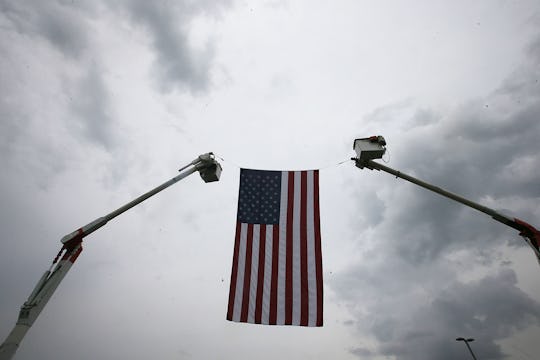 Mario Tama/Getty Images News/Getty Images
Mississippi Shooting Resulted From A Domestic Dispute
On Saturday night, eight people in rural Mississippi died after one man went from house to house on a mass shooting spree. The suspect was arrested by police on Sunday, and as he sat handcuffed on the road, he spoke to The Clarion-Ledger about the events that led up to his door-to-door shooting spree. It quickly became apparent that the Mississippi shooting resulted from a domestic dispute between the suspect and his estranged wife, a situation that is surprisingly — and frustratingly — common.
The shooting reportedly began at the suspects' in-laws' home after a deputy answered a domestic disturbance call there. According to the Associated Press, the deputy was shot and killed, along with other people in the house, and the suspect continued his shooting at two nearby houses, leaving a total of eight people dead.
Vincent Mitchell, the suspect's stepfather-in-law, told the Associated Press that the suspect's wife and two children had been living with him and his wife for approximately three weeks in an attempt to escape domestic violence. Then, on Saturday, the suspect came over for a discussion.
"He'd come to get his kids. The deputy was called," Mitchell told the Associated Press. When the deputy arrived, the suspect reportedly acted like he was going to leave, but then reached for a gun in his back pocket. "He just started shooting everything," Mitchell said.
While the details behind the Mississippi shooting are horribly sad, they're also frustratingly familiar. Before the tragedy in Mississippi, Americans learned that the San Bernardino shooting in California took place after a domestic dispute, and that the Pulse nightclub shooter had a history of domestic violence. Colorado's Planned Parenthood shooter had not only been accused of domestic violence, but had an order of protection against him. The man who killed moviegoers in Lafayette, Louisiana, had a history of domestic violence that barred him from seeing his wife and daughter. And while those events may have made national news, none of them are unique cases.
Far too often, people equate mental illness to mass shootings (in which four people or more are shot and killed). However, of all of the mass shootings that took place between 2009 and mid-2015, mental illness was only noted in about 11 percent of cases, according to The New York Times. On the other hand, over half of those mass shootings — 57 percent — targeted attackers' current or former partners or family members. A shocking 81 percent of mass shooting victims are women and children, according to Vox, and 70 percent of mass shooting sprees happen within homes, rather than in public.
Despite the correlation between domestic violence and mass shootings, however, abusers still often get their hands on guns — and they do so with relative ease. Stricter gun control laws have a hard time getting through Congress, and only 22 states have instated bills that keep guns from domestic abusers, according to The Guardian.
While federal law bars abusive spouses from purchasing guns, it does not prohibit abusive dating partners from buying guns, according to Everytown for Gun Safety. And even federal law doesn't always work as it should: in many areas, a lack of state laws effectively keeps local officers and prosecutors from enforcing federal restrictions, and loopholes can frequently allow abusers to get their hands on guns regardless of restrictions.
"This is an issue that red and blue lawmakers can agree on: domestic abusers shouldn't have guns," Shannon Watts, founder of Moms Demand Action for Gun Sense in America, told The Guardian last month. "All countries have domestic violence. The difference is that we arm our abusers."
The details of the Mississippi shooting are tragic, but they are — unfortunately — all too common in the United States. The link between domestic violence and mass shootings has been proven time and time again, and it shouldn't take more tragic deaths in order to change gun safety laws in the country.