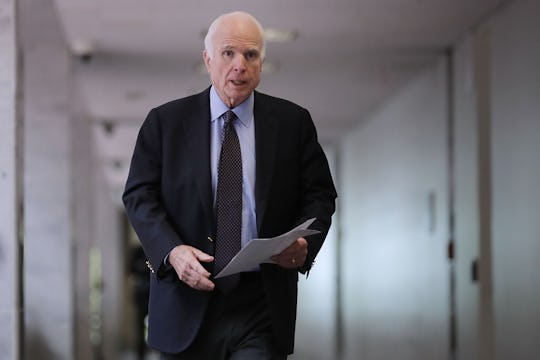 Chip Somodevilla/Getty Images News/Getty Images
The Moment John McCain Voted On The Senate Health Care Bill Was Incredibly Touching
On Tuesday, less than a week after receiving a brain cancer diagnosis, Sen. John McCain returned to the Senate to cast his vote on the Senate health bill — and his return prompted a touching moment on the Senate floor. McCain received a standing ovation when he cast his vote, with Republican and Democratic senators alike acknowledging his attendance with cheers and applause.
The 80-year-old Republican senator had been recovering from surgery in his home state of Arizona, and only announced on Monday night that he would be back in Washington for the vote. With two Republican senators against the bill — Maine Sen. Susan Collins and Alaska Sen. Lisa Murkwoski — McCain's vote was critical to the bill's success. Even with McCain's vote, Vice President Mike Pence had to step in with a final, tie-breaking vote in support of the health care bill.
McCain was diagnosed with brain cancer just last week, according to The Guardian. A brain tumor and blood clot were removed from just above his left eye, and the senator will now have to review his treatment options moving forward. On Thursday, McCain thanked well-wishers for their good thoughts on Twitter, but warned senators that he would be back at work soon.
"I greatly appreciate the outpouring of support," he wrote. "Unfortunately for my sparring partners in Congress, I'll be back soon, so stand-by!"
Despite (very) polarized views on the Obamacare repeal and a tense environment in the Senate on Tuesday, senators stood and applauded as McCain returned to cast his vote. During his subsequent speech, according to USA Today, McCain acknowledged the support he'd received from fellow senators and addressed concerns, saying:
Many of you have reached out in the last few days with your concern and your prayers, and it means a lot to me. It really does. I've had so many people say such nice things about me recently that I think some of you must have me confused with someone else. I appreciate it though, every word, even if much of it isn't deserved.
It seems like McCain will be sticking around for the next little while before heading back to Arizona to treat his illness: he closed out his speech by saying he would be staying in Washington for the next few days, so senators can expect to see him over the next week as the Senate begins its debate on health care.