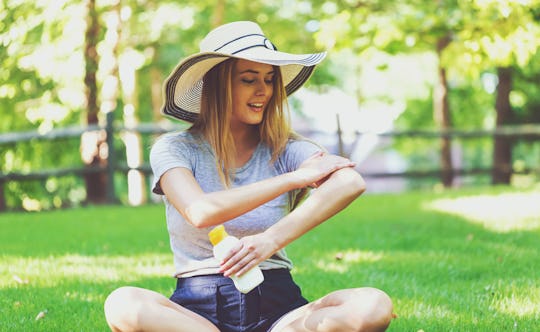 Tierney/Fotolia
The Most Commonly Missed Sunscreen Spot Is In Plain Sight
When you're putting sunscreen on your kids, you slather every last inch of their skin (easier said than done when you're dealing with a wriggly toddler). When you're applying sunblock to your own face and body, however, are you quite as thorough? Considering you're probably putting your sunscreen on as an afterthought (like at stoplights as you drive your brood to the beach), it makes sense that you'd miss an area or two — but unfortunately, these oversights can have painful consequences. So what's the most commonly missed sunscreen spot? Because, if it makes you feel any better, you're not the only one whose application habits are lacking.
While it's not at all uncommon for people to unwittingly skip such places as the tops of the ears or the backs of the knees, there is one body part that's ignored more frequently than the rest: Apparently, the eyes have it when it comes to unwanted UV rays. A study conducted by the University of Liverpool about how we apply sunscreen found that approximately "13 percent of participants missed the eyelids and about 77 percent missed the area between the corner of the eye and the bridge of the nose," Women's Health reported. Clearly a lot of people are afraid of getting sunblock in their eyes (which is understandable, because ouch!). But here's something scarier than stinging eyeballs: Skin cancers on the eyelids account for five to 10 percent of all skin cancers, according to the Skin Cancer Foundation. Most cases of eyelid skin cancer are non-melanoma (83 percent are basal cell carcinoma and 17 percent are squamous cell carcinoma). And as Richard Allen, M.D., Ph.D., told MD Anderson Cancer Center, most eyelid growths aren't cancer at all — but a "painless, asymmetric tumor that starts to bleed" could indeed be cancerous, according to Reader's Digest.
So what can you do? Even if you remember that your eyelids need sunblock, there's still the issue of getting the stuff in your eyes. Obviously sunscreen sprays won't work for your lids, and especially goopy lotions aren't right, either. If your usual face/body sunblock doesn't seem to be cutting it, the good news is there are plenty of eye creams and concealers that provide serious sun protection while helping to reduce the appearance of fine lines, puffiness, and dark circles. Available at Sephora ($38), Kiehl's Clearly Corrective Dark Circle Perfector Broad Spectrum SPF 30 is a lightweight combination concealer and eye cream with licorice-root extract and vitamin C to help combat wrinkles and inflammation.
Also available at Sephora, Supergoop Advanced Anti-Aging Eye Cream SPF 37 ($32) is a non-sticky cream with sunflower and safflower seed oils as well as mica particles to prevent crow's feet and lines while brightening dark undereye circles:
There are even eyeshadows on the market with SPF, like this 5-IN-1 BB Advanced Performance Cream Eyeshadow Broad Spectrum SPF 15 from bareMinerals ($15):
Available in six shades, it's made to stay put for 12 hours (which is way too long to spend in the sun anyway).
In addition to making sure you apply sunblock or SPF eye cream or makeup to these sensitive spots, there is another, somewhat obvious thing you can do to keep your lids from frying: Wear sunglasses.
"Most people consider the point of sunglasses is to protect the eyes, specifically corneas, from UV damage, and to make it easier to see in bright sunlight," Kevin Hamil, Ph.D., co-author of the University of Liverpool sunscreen application study, said in a statement. "However, they do more than that, they protect the highly cancer prone eyelid skin as well."
In other words, for a future so bright... you gotta wear shades. (And sunblock.)