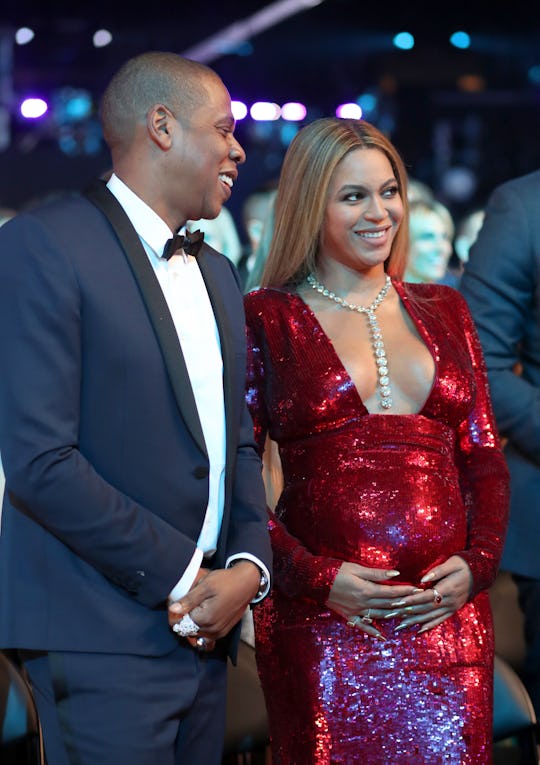 Christopher Polk/Getty Images Entertainment/Getty Images
The Most Liked Instagram Posts Of 2017 Had This One Thing In Common
This past year has been a year to remember. In 2017, people all across the nation saw Donald Trump take office for the next four years, suffered from innumerable losses, wept as mass shootings occurred in the United States, and stood in solidarity with victims of sexual harassment as they said "me too." Although it is hard to imagine, there was some good to come out of this year. And the most liked Instagram posts of 2017 had one this one thing in common that proves there was some good in this year.
Family. In spite of the hardships that many faced this year, family was the one thing that brought everyone together — and it is the one thing that the top Instagram posts of this year had in common. And it shouldn't be surprising, either, that the top hashtag of the year was #love — the more people used it and shared it, the more they spread it, too. And the world could have used a lot of it.
Beyoncé's pregnancy announcement made the top Instagram post of the year and it encapsulated that #love was something people so desperately needed. She announced at the beginning of the year, in February, that she was not only expecting her second child but she was expecting twins. The photo got 8 million likes, naturally.
If her announcement with just her bare pregnancy bump got that many likes, then it shouldn't surprise anyone that their birth announcement almost got just as many, coming in as the fourth most liked Instagram photo of the year. Fans had waited for Beyoncé and her husband, JAY-Z to announce the arrival of twins daughter Rumi and son Sir Carter, after news outlets had reported their arrival weeks before. But Beyoncé did not disappoint with the photo, replicating the artsy style of her pregnancy announcement and showing off her beautiful new additions to the world for the first time exactly one month after they were born right on the social media platform.
Global soccer star Cristiano Rinaldo, who is essentially the Beyoncé of soccer, shared his own new addition to his family to make the top 10 most liked photos of 2017. The birth of Rinaldo's daughter, Alana Martina, might have happened earlier this month on Nov. 12, but it didn't stop 11 million people from making it the second most liked photo on Instagram.
Rinaldo's daughter is his fourth, according to E! News, but his first child with girlfriend Georgina Rodriguez. In the photo, the new mother and father (along with Rinaldo's son, Cristiano Rinaldo Jr.) could not look any happier to welcome their new one into the world.
But before Rinaldo and Rodriguez welcomed Alana into the world, they had two new lives to celebrate before that. Just like Beyoncé, Rinaldo and Rodriguez welcomed twins by a surrogate over the summer, according to the New York Daily News, and fans could not get enough of them. In both photos, which made the top 10 Instagram photos of the year, Rinaldo beams as he holds his new son and daughter. If this isn't what #love looks like, then I don't know what does.
An Instagram list would not be complete without the queen of Instagram herself, Selena Gomez. Gomez is the most followed person on Instagram, ever, and took the top spot as the most followed person for the year — that's enough to celebrate. But Gomez had something else worth celebrating — the #love from her friend, Francia Raisa, after she donated her kidney to Gomez. Over the summer, Gomez received a kidney transplant from Raisa, according to People, due to suffering from complications with lupus. Gomez told TODAY host, Savannah Guthrie in October, according to People:
My kidneys were just done. That was it, and I didn't want to ask a single person in my life. The thought of asking someone to do that was really difficult for me. She volunteered and did it. And let alone someone wanting to volunteer, it is incredibly difficult to find a match. The fact that she was a match, I mean that's unbelievable. That's not real.
Gomez documented that unfathomable act and put it on Instagram for her millions of fans to witness. The photo is so, so sweet.
In 2017, the most liked Instagram posts made it clear that love will bring everyone together. And at the end of the day, family and the people we bring into our lives are the ones that matter — even from those watching afar on social media.
Check out Romper's new video series, Romper's Doula Diaries:
Watch full episodes of Romper's Doula Diaries on Facebook Watch.