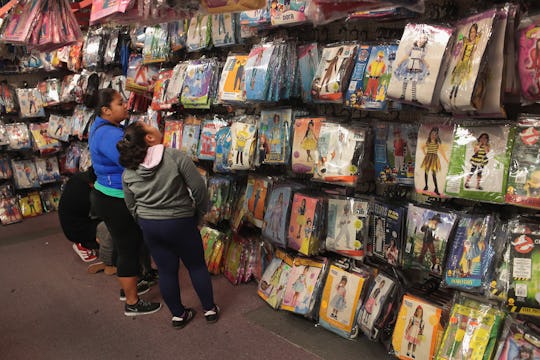 Scott Olson/Getty Images News/Getty Images
These Are The Top Searched Halloween Costumes In 6 States, According To Google
Trends affect everything in fashion, and even Halloween costumes go through changes in popularity. But thanks to technology, we now have more information about costume trends than ever before. In fact, there's now accurate intel about the most popular Halloween 2018 costumes by state, according to Google. I have a strong feeling that most parents can guess what the top costume choice will be this year.
With over 3.5 billion Google searches occurring each day, Google Trends and the Google News Lab have compiled this information into a handy holiday guide for all things Halloween. With the launch of Frightgeist, an interactive Halloween site powered by Google Trends, curious costumers can get up-to-date data on the most popular costumes around. This info can be used by anyone to locate the perfect costume. It's a neat and creative way to make use of Google's powerful technology.
Now for the fun part. Can you guess which costumes are most popular in your state, or other parts of America? Really, the results are a fun mix of classic costumes we've all seen for decades, as well as a few trends that are unique to kids these days. Read on to see what's trending in your part of the world.