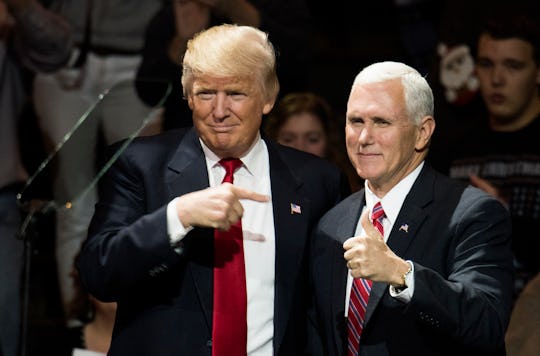 Ty Wright/Getty Images News/Getty Images
The Most Recent Jobs Report Shows Things Are Much Better Than Trump Thinks
If the only thing you'd read or followed during the 2016 presidential election were the opinions coming out of Trump campaign, it's likely that you were under the impression that America was more or less in complete crisis. The president-elect has suggested that the country has a big problem with unemployment — primarily due to jobs being lost to Mexico and China — and pledged to solve that problem as president, particularly through the creation of good-paying manufacturing jobs. But the most recent jobs report released by the White House Friday shows that, actually, unemployment is relatively low, and that Trump will actually be inheriting a much healthier economy than President Obama did when he took office.
According to CNBC, the report, which will be the last one released during Obama's presidency, shows that the country's unemployment rate has "dropped to a nine-year low of 4.6 percent." That's a pretty big deal, especially considering that, when Obama took over in 2008, the unemployment rate was around 8 percent, and peaked at 10 percent in October 2009, according to ABC News. The White House jobs report also shows that, 15.6 million jobs have been added since 2010, and that wages are increasing. According to ABC News, more Americans are also buying homes, consumer spending has increased, and, overall, economic growth is continuing to accelerate.
While that certainly doesn't mean that there aren't still many economic issues that will need to be addressed by Trump after he takes office, it does seem to suggest that, unlike Obama, who faced the responsibility of having to turn the economy around when he became president, Trump will have to ensure that, at the very least, he doesn't undo the positive gains accomplished by his predecessor. Although throughout his campaign Trump largely pushed the notion that America is losing jobs, The Atlantic noted in November that "the economy has now added jobs for 73 consecutive months," and that both median household incomes and average hourly earnings are on the rise. According to the White House, 178,000 jobs were gained in November 2016 alone, continuing "the longest streak of total job growth on record." The unemployment is now the lowest it has been since August 2007, and so far in 2016, "average hourly earnings for private employees have increased at an annual rate of 2.7 percent," outpacing the inflation rate.
Despite this reality, Trump's campaign message about unemployment strongly resonated with many Americans, especially blue-collar workers who liked that Trump was championing the idea of reinvigorating the American manufacturing industry. Earlier this week, the president-elect made a point to show he was serious about that cause, and brokered a deal with Indianapolis-based air conditioning company Carrier to keep 1,000 jobs it planned to move to Mexico within the state, according to CNN. The details of the deal weren't entirely clear, but many have praised it as Trump's first major move since the election.
Not everyone was happy about it though. Others have argued that it was, at best, little more than a PR move, and at worst, a concerning, precedent-setting move that could have negative economic consequences. According to Vox, manufacturing jobs in Indiana were at their peak under President Bill Clinton in 1999, at 672,000. They dropped significantly over the next decade, but this year there are now 513,000 manufacturing jobs in Indiana, meaning that Obama's economic recovery policies have not only succeeded in bringing back manufacturing jobs, but that they've done so in a much more significant way and with much less fanfare than Trump's small Carrier deal. In other words, even if the deal turns out to be a good move, it'll still be a drop in the bucket compared to what Trump will have to accomplish if he's really serious about saving jobs. As Vox noted,
Getting all the way back to the Clinton-era peak would require Trump to pull off about 160 Carrier-scale moves in Indiana alone, to say nothing of the millions of manufacturing jobs in other states.
But in a Washington Post op-ed Thursday, Vermont Gov. Bernie Sanders argued that Trump's deal wasn't just not particularly laudable, it was actually incredibly problematic. Sanders noted that even with the 1,000 jobs saved, Carrier's actual plan was to off-shore about 2,100 jobs to Mexico, so he still lost more jobs than he gained out of the deal. There's also no mention that the Indiana workers who will remain employed at Carrier as a result of Trump's deal won't still be subjected to wage or benefits cut as cost-saving measures by the employer. And then there's the fact that, according to CNBC, in addition to moving the remaining jobs to Mexico, Carrier is also still expected to close another facility in Indiana anyway.
That's not all, according to Sanders. The governor noted that Trump vowed during his campaign to penalize companies like Carrier with steep tariffs when they took jobs out of the country and then tried to sell their products back to American consumers, and while Trump hasn't said whether he intends to actually follow through on that plan, it's likely that as part of the deal, United Technologies (the company that owns Carrier) was promised significant corporate tax cuts to keep at least some jobs in the state — in other words, the exact opposite of tariffs and penalties. The deal may have made Trump look good, but Sanders wrote that it really just sent a clear message to American corporations that "they can threaten to offshore jobs in exchange for business-friendly tax benefits and incentives," adding,
How's that for standing up to corporate greed? How's that for punishing corporations that shut down in the United States and move abroad? In essence, United Technologies took Trump hostage and won.
Beyond the debate about Trump's plan to bring back jobs though, and even beyond the idea that the country is actually doing much better than he communicated to voters, the fact does still remain that economic issues definitely do still exist, and that, as president, Trump will need to at least attempt to remedy them. According to ABC News, despite the current low unemployment rate, "fewer than 60 percent of adults" in America are currently employed, which is "[three] percentage points lower than when the Great Recession began in late 2007." This statistic primarily reflects the reality that those in the baby boom generation are retiring (since retirees are considered to be employed adults for data purposes), but the numbers also suggest that young people aren't being hired to replace them.
Then there's the fact that many workers who are technically employed have had to take precarious part-time positions or contract work despite wanting permanent, full-time positions. Additionally, despite average overall increases in pay, the rate of growth is still less than what it should be. Economic inequality is also certainly still a big issue, especially among people of color, and the reality is that the economic gains that do exist disproportionately benefit those who were already wealthier to begin with, according to The New York Times.
Still, the most recent jobs report is encouraging, and positive overall. As president, Trump will have the opportunity to capitalize on Obama's progress, and continue to move the economy — and the country as a whole — forward. And there's no doubt that that's exactly what Americans are ultimately hoping he will do.