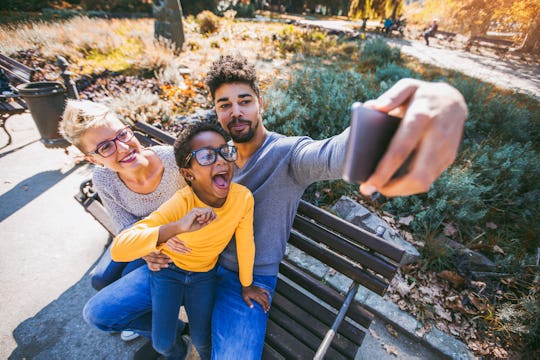 Mediteraneo/Fotolia
The Most Viral Kid Video Of 2017 Is Making A Big Impact, According To A Trends Expert
Increasingly, little kids are going viral across platforms like Instagram, YouTube, and Facebook — and by little, I'm talking toddlers. According to The New York Times, social media starlets as young as 2 are paying their parents' mortgages as viral sensations. This year, kids who sass like adults were popular video shares. In fact, the most viral kid video of 2017 may well be Mila Stauffer's impossibly hip rant on the disappointments of preschool (she's "shook," the teacher's "shady," and a little boy is "triggered"). The numbers behind her fame are startling.
Since Mila Stauffer's preschool video was posted on her mother's Instagram on Aug. 11, 2017, it has received nearly 5,752,542 views — or almost six million clicks. (That's roughly the population of Atlanta, per the United States Census Bureau.) Mila's mother, Katie Stauffer, also created a YouTube channel featuring Mila and her twin sister Emma. Dozens of media outlets have written about the Stauffer children, and as a result of their incredible fame, Mila and Emma have starred in advertisements for Amazon, Dollar Rental Car, Walmart, and more, reported The New York Times.
Katie Stauffer now boasts 2.2 million followers on Instagram. The family even scored a valuable retweet from Kris Jenner, who wrote of Mila's skyrocketing preschool video, #iminlove.
"The first 'little kid' video to go mega-viral was Charlie Bit My Finger, a short clip from 2007 featuring two brothers — 1 and 3 years old," explains Daniel Levine, a trends expert and public speaker, in an email interview with Romper. "The simplicity (and some would say stupidity) of this video brought fame and fortune to the family and woke many parents up to the huge sums that could be made by sharing their quotidian lives online."
Certianly, the Stauffers got rich from their popular videos, and Mila's mother retired from her job as an escrow in order to devote herself to managing her now famous children, reported The New York Times. In addition to their advertising work, Mila and Emma are sponsored by a host of clothing chains and food brands, reported Her Family.
So what, exactly, makes a kid video take off? "While luck plays a big part, there are some commonalities among videos that go viral," explains Levine. "These include having a catchy concept, a unique appeal that elicits an emotional reaction, and an excellent title. Savvy, targeted marketing is key, too."
As a trend, videos of kids doing the-darndest-things are just as popular as Maru, Grumpy Cat, and other viral pet vids, notes Levine. But these days, a new phenomenon is brewing — videos for kids, by kids, a la Ryan ToysReview. According to The Washington Post, 6-year-old Ryan made $11 million dollars reviewing toys for other small children.
Levine expects the popularity of videos targeted at children to grow in 2018, based on the fact that children will watch YouTube clips "ad nauseam," and that smartphones and tablets are portable and cheap. After all, who needs crayons and a kid's menu when you have your iPad mini?
"It's the easy way out of attentive parenting," says Levine.
Mila's preschool monologue wasn't the only kid video to dominate the internet in 2017. (Remember when Professor Robert Kelly's BBC interview was video-bombed by a couple of toddlers?) Little kids do it all — and the internet loves to watch. But not everyone's a fan of this brave new world. "We have already seen a backlash against videos featuring young children for being exploitative," says Levine, citing the infamous Balloon Boy video hoax of 2009, and YouTube's recent termination of the Toy Freaks channel, on which a father appeared to purposefully terrify his young daughters in an attempt to go viral. The channel's top-rated video received over 622 million views, reported Variety.
"Bad parenting has always been bad," says Levine. "Now it's sometimes being used as a conduit to riches."
I, for one, will be very curious what Mila Stauffer has to say about her viral first years of life when she's old enough to tell us about it in her own words. (Book deal, anyone?) In the meantime, brace yourself for another slew of viral kid videos — some hilarious, and others deeply troubling — as parents embark on 2018, smartphones in hand.
Check out Romper's new video series, Romper's Doula Diaries:
Watch full episodes of Romper's Doula Diaries on Facebook Watch.