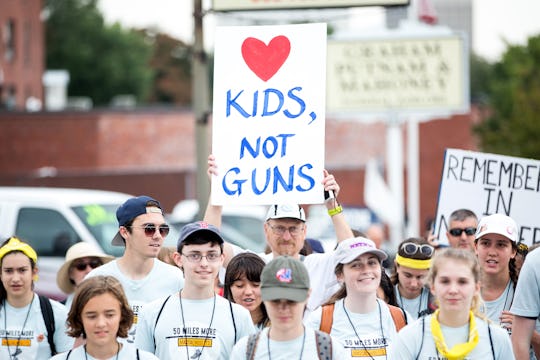 Scott Eisen/Getty Images News/Getty Images
The Mom Of A Thousand Oaks Victim Begged For Gun Control In This Heartbreaking Video
After 12 people died on Thursday when a gunman stormed into a bar in Thousand Oaks, California, people are calling for the gun violence to stop — just like they've shouted this a million times before. No matter where you stand on the issue, people need to hear from the victims themselves. Most importantly, people need to listen to the mother of a thousand oaks shooting victim beg for gun control — because her words should be enough for people to say "enough is finally enough."
After a gunman ended the lives of 12 people on Thursday, people are calling for an end to the violence, as they have so many times before. Although so many people will give excuses as to why mass shootings keep on happening — or why gun violence can't be brought to an end in the United States — it's terrifying to know that events like these will keep on happening until they're put to a stop. It's times like these where people wish they knew what to say or what to do to help the family members of the victims from these shootings cope.
Telemachus Orfanos — a 29-year-old man from California — was among these victims in the shooting, according to CNN, and his mom is one person who doesn't want "thoughts and prayers" from bystanders. In a heartbreaking plea on TV, Orfanos' mom, Susan Orfanos, spoke to KABC-TV and demanded a change be made.
"I don't want prayers. I don't want thoughts. I want gun control and I hope to god nobody sends me any more prayers," Susan said. "I want gun control. No more guns."
Her plea has since gone viral on Twitter, with thousands of people sharing and agreeing with her message — the gun violence has got to stop. This is one person that people need to take seriously. One year ago, before he died, Telemachus was at the Route 91 Harvest music festival in Las Vegas, Nevada, where a gunman killed at least 50 people, according to USA Today. A friend of Telemachus' told KABC-TV that he was at that music festival and survived. Susan mentioned this during her heartbreaking speech on TV.
"My son was in Las Vegas with a lot of his friends and he came home," Susan said. "He didn't come home last night."
This is so terrible to hear. Mothers shouldn't have to live on fear every single day about their children not returning home from school, a concert, or from a fun night out — just like those kids shouldn't have to worry about going to school, or letting loose on a night out.
Susan repeated these same comments to the New York Times on Thursday. Susan pleaded with the paper to get them to talk about gun safety measures so murders like this one don't happen again. Susan told the New York Times:
He made it through Las Vegas, he came home. And he didn't come home last night, and the two words I want you to write are: Gun control. Right now — so that no one else goes through this. Can you do that? Can you do that for me? Gun control.
But things won't happen until politicians and policy makers have had enough — and make laws that restrict access to guns in the United States. The nation could be headed in that direction, thanks to the 2018 midterm election on Wednesday. More than 24 proponents of guns rights won't be returning to Congress next year, according to CNBC. And instead, 17 democrats who are advocates for stricter gun laws will be making their way into the House next year to replace them.
Although it wasn't a complete win for advocates of gun safety measures, according to Vox, this midterm election was a step in the right direction for "supporters of stronger gun laws." Parents should never have to live in fear about never seeing their children again. Thankfully, politicians are beginning to agree with them.