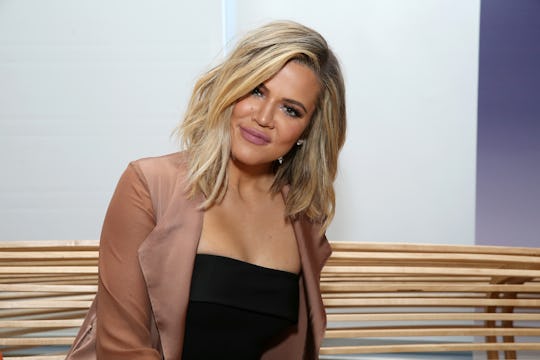 Cindy Ord/Getty Images Entertainment/Getty Images
Khloé Reveals What She Wants To Name Her Baby, & It's Really Touching
If you're currently hunkered down having a snow day like most of the United States, here's something to lift your spirits: Khloe Kardashian revealed her baby name on Ellen on Thursday morning, according to People. Well, one baby name, anyway. Kardashian still hasn't revealed the sex of her baby, but the reality star said, "I think if it's a boy, I'll go with Junior — Tristan Jr." That's not exactly a guarantee, but the rumor mill seems convinced that she's carrying a boy, so for some fans, that's as good as a confirmation. As for a girl? "I don't know where to begin," Kardashian told host Ellen DeGeneres. Actually, that's not quite true, either. She does know where to begin — with a T or a K, in honor of dad Tristan Thompson or herself — although that's as far as she's gotten.
Fans are hoping that they won't have to wait too long for the next bit of Kardashian baby intel. On Wednesday, a Twitter follower asked when the public will learn whether Kardashian's expecting a boy or a girl. In keeping with family tradition, she replied that she's saving that secret for an upcoming episode of Keeping Up With the Kardashians, although it won't be the next one, which happens to run opposite the Golden Globe Awards on Sunday night.
If I were a gambler, I'd bet that the news will be revealed on Episode 14, titled "Bun in the Oven," during which "Khloé has some big news to share with her family. I just have a feeling about it; call me crazy. Kardashian is six months along, so if you're not able to tune in every week and obsessively monitor her tweets and Instagram posts, don't worry; everything will be revealed soon enough.
That is, everything about this particular baby. Fans are also still waiting on one or two more. Sister Kim Kardashian is expecting her third child, a girl, via surrogate sometime soon. Us Weekly reported that she'd be here before Christmas, while TMZ claimed the due date is at the end of January. Considering the fact that Christmas came and went a week and a half ago, I'm leaning towards TMZ on this one. Kim and her husband, Kanye West, have employed a surrogate to carry this pregnancy because health complications have made it too risky for Kim to do it herself.
And then there's the matter of the youngest sister in the Kardashian-Jenner family, Kylie Jenner. TMZ reported her rumored pregnancy back in September, and the family has been jumping through hoops to avoid confirming or denying the news ever since. Immediately following the report, Jenner appeared to have a little fun teasing her fans; she posted several possible clues on Snapchat, and every Instagram pic since the fall has been either a tight closeup or a throwback photo. Fans expected that they'd finally get to see that stomach — full of baby or not — on the famous annual Kardashian Christmas card, but she was nowhere to be found.
It might not be that big of a deal to skip out on the Christmas card; after all, West didn't participate until 2017, and brother Rob Kardashian's been absent since 2013. But this year's "card" was actually 25 different photos revealed on each day of December, and because West did appear in some of the earlier shots, it seems rather suspicious that Jenner would be absent. DeGeneres tried grilling her older sister on Thursday morning, even pulling out a phone and offering to call the lip gloss mogul, but Kardashian wasn't giving it up. "She must be pregnant," DeGeneres reasoned. "There's too much secrecy around it." Kardashian demurred, but DeGeneres saw something that the audience didn't. "Look at your eyes!" she marveled. "I can— I can— she's— Y'all, she's pregnant, y'all! I can tell by her eyes!" We'll just have to wait and see.
Check out Romper's new video series, Romper's Doula Diaries:
Watch full episodes of Romper's Doula Diaries on Facebook Watch.