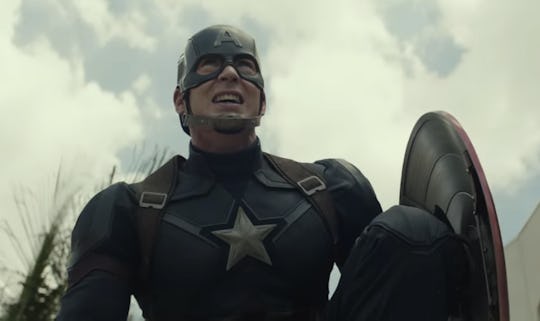 The New 'Captain America: Civil War' Trailer Raises One Very Big Question
It's been a big year for Marvel Studios. In May, the superhero-based production company released The Avengers: Age of Ultron, and in July Ant-Man made it's big screen debut. Then the Netflix series Jessica Jones premiered last week. But yesterday we got our first taste of their next project when Marvel released the trailer for Captain America: Civil War (the third installment in "the Cap" franchise).
Much like The First Avenger and The Winter Soldier, Civil War will be based off of a script written by Christopher Markus and Stephen McFeeley. The movie will take place in the after The Avengers: Age of Ultron, but it will focus on a new threat: the superhero's themselves. Following Mark Millar's Civil War storyline, and in the wake of the destruction caused by the hero's "in the name of good," we will see a push by the people to force each good guy to register with the government. While some are onboard with this idea, namely Iron Man and War Machine, others — like Captain America — are not. This leads to a clash and perhaps the greatest questions the series has ever faced:
What is right and what is wrong?
Or more specifically, who is good and who is "evil?" And which "side" will each Avenger choose?
Make no mistake, this movie will still have a traditional "bad guy." It has been confirmed Daniel Brühl (Inglorious Bastards) will be playing the purple-masked Baron Zemo, but the promotional photos, the movies production poster — complete with the phrase "Divided We Fall" — and the new trailer lead us to believe the real battle will be waged on a far more personal battlefield. This time heroes aren't fighting villains but, instead, fighting themselves. This time friends are fighting friends.
Captain America: Civil War is slated to hit theaters on May 6, 2016.
Image: Marvel Studios