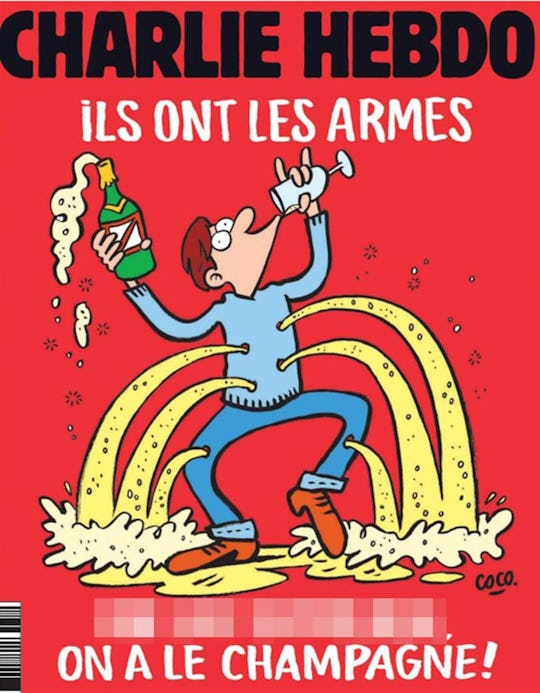 The New 'Charlie Hebdo' Cover Is Inciting All Kinds Of Reactions — And Not All Of Them Are Good
French satirical magazine Charlie Hebdo released the cover for its latest issue on Tuesday, and it makes a powerful, defiant statement about the series of attacks Paris suffered last week. The cartoon drawing is of a French partygoer drinking a glass of champagne while it pours out of bullet holes all over his body. The text surrounding the cartoon says: "They have weapons. F*ck them, we have Champagne!" And as you might imagine, the reactions to the new Charlie Hebdo cover have been almost as strong and visceral as the cartoon itself.
The new issue is a direct response to the six devastating attacks in Paris that left over 130 people dead and at least 352 people injured last Friday. Charlie Hebdo, known for its scathing satire of religion, politics, and other issues, appears to be urging readers to continue standing up for France and French culture in the wake of the terrorist attacks. That message was welcomed by quite a few people on social media on Tuesday; but others were put off by the magazine's representation of gun violence, since many in Paris are still reeling after losing loved ones just days ago.
Here is the magazine's powerful cover:
And plenty of people are on Twitter expressing support for the magazine's strong message — or concerns that the image is too strong and too soon after the Paris attacks:
That Charlie Hebdo would rally with such a strong message is no surprise. In January of this year, the publication's staff were themselves the victims of a terrorist attack when two men opened fire on staffers at the publication's central Paris headquarters. The gunmen, who claimed to be members of Al-Qaeda, were angry at the publication's portrayal of the Muslim prophet Muhammad. Later that same week, the magazine cover featured another cartoon image of Mohammad along with the caption "Je suis Charlie," a phrase that quickly became synonymous on social media with expressing support for victims of the French attack.
The Huffington Post translated a tweet by Charlie Hebdo artist Corinne Boer, who drew this week's controversial cover, to everyone who has responded in support: "Thank you for all of your messages," Boer wrote. "We put a lot of ourselves into this issue. We are leaving nothing out. #f*ckthem See you tomorrow in #CharlieHebdo."
Image: Charlie Hebdo