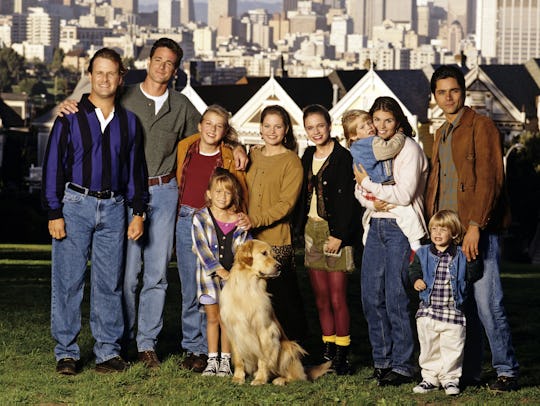 Craig Sjodin/Disney ABC Television Group/Getty Images
The New 'Fuller House' Opening Credits Are A Trip Down An iMovie-Made Memory Lane
"Everywhere you look" there are both gentle and smack-you-over-the-head reminders of the original Full House throughout the new Netflix original, Fuller House — and there's no better example of that than in the new Fuller House opening credits. The Fuller House premiere fakes us out by opening with original footage from the opening credits, with Jesse Frederick singing the last chorus of "Everywhere You Look" and the the old Full House title. But all is not as it seems, when, after a brief cast reunion with all of our old pals, the episode cuts to the new opening credits, given new life by Butch Walker and sung by Carly Rae Jepsen.
The camera pans across lovely aerials of San Francisco and the iconic Painted Ladies of Alamo Square. The Fuller House opening credits then cut to a decidedly cheesy slideshow of each character, featuring original Full House clips of each character's opening title appearance through the years with a live-action shot of the current actor or actress superimposed on top. I think the Fuller House creative team was really trying to go for that super-gaudy 1990s scrapbook-y visual style, but it really looked like something your aunt would make on iMovie using every feature possible.
Candace Cameron Bure gets top billing as D.J. Tanner-Fuller, followed by Jodie Sweetin as D.J.'s little sister, Stephanie. Sorry folks — no Olsen Twins in this sequal as Michelle. Andrea Barber is back as the annoying neighbor Kimmy Gibbler, now a divorcee and mother of Ramona, played by Soni Nicole Bringas. We also see credits for D.J.'s three sons: Michael Campion as Jackson Fuller, Elias Harger as Max Fuller, and Dashiell and Fox Messitt as Tommy Fuller, Jr., D.J.'s infant son.
But what about all those adults from the original Full House that we've been dying to see? Turns out they all get "special guest star" status, including John Stamos as Uncle Jesse, Bob Saget as Danny Tanner, Dave Coulier as Uncle Joey, and "she must have a portrait in the attic" Lori Loughlin (seriously, she has not aged a day) as Uncle Jesse's wife Rebecca. Even Scott Weinger as Steve Hale and Blake & Dylan Tuomy-Wilhoit as the Katsopolis twins show up. Each appears in side-by-side shots recreating their opening title shots from the original series.
Don't get too attached to all your guest stars in the first episode, as Fuller House actually focuses on D.J., Stephanie, and Kimmy as they all move in together into their old house. Subsequent episodes of Fuller House open with the new credits and just feature the female trio and the kids. But don't worry — Weinger still shows up throughout the series in his guest starring role as convenient plot device, I mean, um, D.J.'s old high school sweetheart.
The entire first season of Fuller House available now for streaming on Netflix.