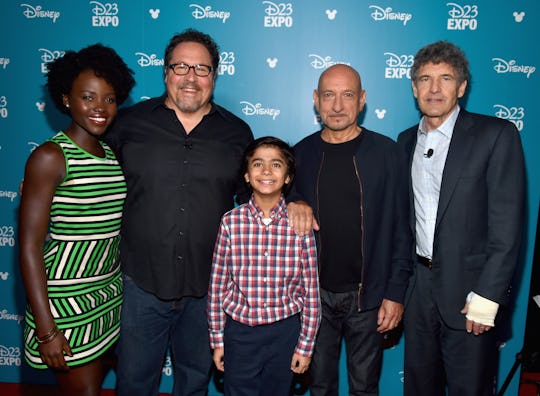 Alberto E. Rodriguez/Getty Images Entertainment/Getty Images
The New 'Jungle Book' Photos Are Here & They're Incredible
It's easy to be suspicious of the new Jungle Book movie. The 1967 animated Disney classic is protected by a pretty high fence of nostalgia, but, luckily, the director of the 2016 remake has made it very clear that it's going to be a very different film. In fact, the latest adaptation is starting to look pretty appealing. Why? For starters, the new Jungle Book photos are incredible and they're getting fans psyched for it's release.
Director Jon Favreau is the brains behind the new Jungle Book, and he's harnessed some serious star power to give the story new life. Many of the voices of the animal cast will be very recognizable. Scarlett Johansson, Idris Elba, Lupita Nyong'o, Christopher Walken, Ben Kingsley, and Bill Murray (among others) will all be voice-acting in the film, and the CGI animated creatures they play have been designed to reflect their facial expressions and mannerisms to not only make them look realistic, but to make them engaging, human-like, sympathetic characters. Favreau told People, "We set out to design a world that felt at once both authentic to India [the story's setting] and also felt mythic and dreamlike." He said he wanted the animals to be emotive, but didn't want to risk the illusion that these were real animals, and not people. He described their process for walking this fine line:
Christopher Walken has such specific performance style that you want to capture that and we want to build the model to really match the face of Chris Walken. For Bill Murray, a bear's face is very expressive and human and around the eyes with the wolves, we found the human expressions worked well. But we never wanted to break the reality that you're looking at animals, so whether it was trying to get them as photo-real as possible, or restraining the performances so they didn't get too human, that was the balancing act we played throughout this production.
To tease the film and introduce the characters of the story, the filmmakers released a collection of stunning photos that pairs these celebrities with their wild counterparts.
Johansson plays a sneaky, two-faced python named Kaa, and from what Favreau told People about her performance, it sounds like she nailed it. He said, "There is an innocence about her vocal performance and at the same time feels a little suspicious and off-putting."
The amazing Idris Elba will be playing the villain, Shere Khan. If anyone is capable of bringing this terrifying character to life with artful subtlety, it's Elba.
If you need a refresher on the basic plot, Mowgli is raised by wolves, and his wolf parents in this version will be the lovely Lupita Ngyong'o and Giancarlo Esposito (could there be two better parents?). Both will have to convey a tough fierceness alongside a deep, against-all-odds kindness. From these photos, it seems they were very well cast.
The Jungle Book comes out April 15, and, if these photos are any indication, it should be, if nothing else, a collection of amazing performances (though I suspect it will be much more). With such an amazing and varied cast bringing life to such a classic story, it's difficult not to have high expectations.