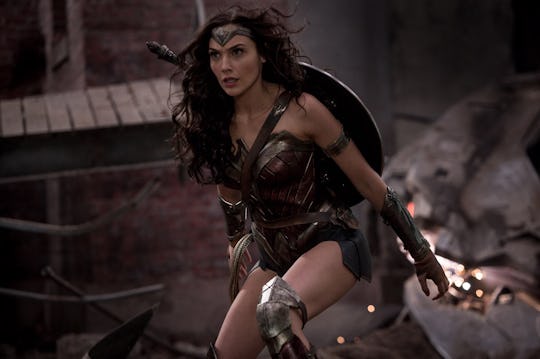 Warner Bros.
The New 'Wonder Woman' Trailer Is Here, & It Proves The Movie Is Unlike Any Other DC Film
Ever since she made her long-awaited debut in Batman v. Superman: Dawn of Justice, we've been excited about seeing more of Gal Gadot's incarnation of Wonder Woman. Arguably the most iconic female superhero, the announcement of her solo film shattered the annoyingly prevalent tendency for big superhero movie studios to shy away from really focusing on any of their amazing superheroes who also happen to be women. But the new Wonder Woman trailer is here, and like the film's earlier previews, it's shattering expectations in the best way possible.
It's no secret that the DC Extended Universe has been struggling. DC's television shows have been thriving for the past few years, with The CW's Arrow hitting its landmark 100th episode this season and spawning two spin-off series and with Supergirl becoming a surprise hit last year. But the company's film endeavors have fared less well, especially when compared with Marvel's massively popular films, many of which have been critically as well as commercially successful. The first DCEU film, Man of Steel, was met with a decidedly lukewarm response, while its sequel and Suicide Squad were straight-up panned.
But with the release of the newest trailer, director Patty Jenkins seems set to turn the DCEU around with her visually-spectacular Wonder Woman.
This trailer reveals much more of the plot than the earlier, more action-based first look that debuted at San Diego Comic-Con this past July.
The upcoming film takes place in flashbacks to Wonder Woman's past. The clip opens with the hero looking at an old photo of herself with Steve Trevor (Chris Pine) and other soldiers. "I used to want to save the world. This beautiful place," Diana Prince (aka Wonder Woman) recalls in the trailer. "But the closer you get, the more you see the great darkness within. I learned this the hard way, a long, long time ago."
Paired with Gadot's voiceover, we see stunning visuals of Diana and her Amazonian sisters encountering Steve and his men on the Amazons' breathtakingly beautiful island, after Steve crash lands there. One of the most notable aspects of the trailer is simply how much lighter it is than the unrelentingly dark earlier DCEU films (and, in particular, Batman v. Superman).
The preview explains how Wonder Woman came to fight in the "war to end all wars" and her belief that it is her (and her fellow superhuman Amazonian sisters') "sacred duty to defend the world." Of course, when we first met Diana during Batman v. Superman, she was a pro at blending in as a "normal" human. The trailer humorously shows her struggles in doing so upon first arriving in human territory, with her confusion over how she's supposed to fight in a voluminous dress.
On top of establishing a great deal of the plot, the trailer also has a barrage of immediately memorable shots. We can only imagine how visually impressive the full movie will be.
After dozens of movies focusing on almost-exclusively male superheroes, it's definitely time for a strong, active woman to take the lead. The trailer seems to insure that Wonder Woman is in very capable hands with the talented Jenkins, who manages to throw in a few nods to Christopher Reeves' classic Superman films, as fans on Twitter have been quick to point out.
We can't wait to see the titular heroine save the day when Wonder Woman is released in June 2017.