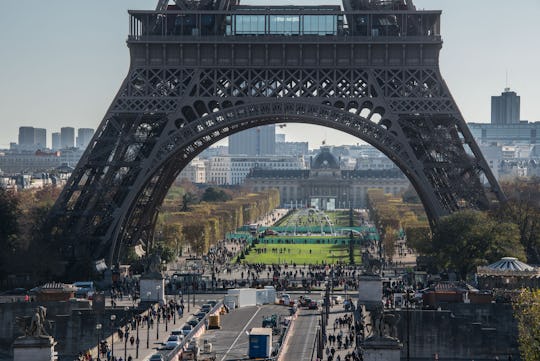 'The New Yorker's 'Madeline' Cartoon Is A Near-Perfect Tribute To Paris After The Attacks
In the wake of the deadly terrorist attacks in France Nov. 13, a New Yorker cartoon honored Paris with a scene from Madeline, the beloved children's book set in the City of Light. The Sunday cartoon, drawn by regular New Yorker cartoonist Benjamin Schwartz, reimagines a scene from the beloved children's book by Ludwig Bemelmans. It features twelve schoolgirls and their supervising nun walking in Paris, and the caption reads: "In an old house in Paris that is covered with vines, live twelve little girls whose country still shines." The caption is a riff on the first line of the book, which reads, "In an old house in Paris that was covered with vines, lived twelve little girls in two straight lines."
The first Madeline book was published in 1939, with several subsequent books following it in the years afterwards. It's a series that has touched generations — mine was one of them — and the New Yorker cartoon definitely pulls on those nostalgic heartstrings. Madeline introduced many non-Parisians worldwide to Paris before we ever visited in person, and recalling the setting of the book makes anyone viewing this cartoon who loved Madeline as a child recognize a personal connection to Paris, at least as Bemelmans portrayed it.
The only problem with the cartoon is that it inadvertently gestures to an observation many have made amid the huge media coverage of the Paris attacks and outpouring of love from the most famous people in the world: there has been much more mourning for the violence visited on a city so important to the Western imagination than for bombings elsewhere that occurred within 24 hours of the attack on Paris. My Facebook feed has been full of people imploring others to remember that not only did Paris suffer on November 13th, but so did Beirut, and so did Baghdad.
Many are asking whether we only care about tragedies in Western countries, and Schwartz's depiction of twelve white girls doesn't help — especially considering that France has a substantial non-white population. France doesn't keep racial statistics of any kind, but the website of the Paris mayor's office reports that nearly 15 percent of the Parisian population is foreign, and those foreigners are often North African and Turkish.
Those concerns are important, and since the caption of the New Yorker cartoon is a present-tense riff on the original, it would have been nice to see Schwartz reimagine the twelve little girls as a more diverse group. Still, it was an effective, even stirring way of affirming that France's, and specifically Paris', luster won't be tarnished by Friday's attack. That's a welcome message in this moment, especially in the words of a story that has helped generations celebrate the city.
Image: David Ramos/Getty Images News