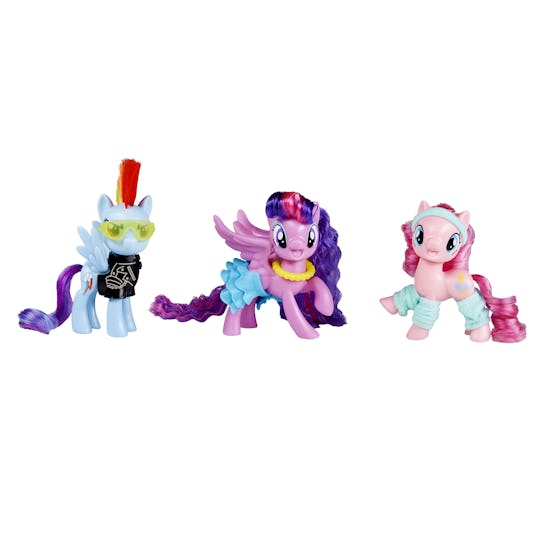 Courtesy of Hasbro
Here's A Look At The Latest '80s-Inspired My Little Pony Toys
If you're into the 1980s, ponies, and nostalgia, then hold on to your horses. The My Little Pony Established 1983 Greatest Hits Set is getting released at the San Diego Comic-Con this year, and it is totally tubular. Basically, these are the fun, 80s-inspired pony figures you need in your life right now.
In celebration of the brand's 35th anniversary, the My Little Pony Established 1983 Greatest Hits Set is being released exclusively at the San Diego Comic-Con (SDCC). It features three of the mane six characters reimagined with 80s-inspired fashions, as well as funky mane styles. Twilight Sparkle is dressed as an '80s pop princess, Pinkie Pie is jamming out in some old-school aerobic gear, and of course Rainbow Dash is rocking a fierce mohawk and punky leather jacket. In addition to these totally awesome figures, the set also includes three cassette tape-inspired collector cards describing the pony friends. To round out the theme, the entire set is housed in packaging designed like a boombox. Retailing for $20, the set is exclusive to SDCC, so book your trip to San Diego right away. These newer ponies look a little different from their 1980s predecessors, but they are definitely on the scene and ready to party in some of the best getups imaginable.
As anyone who grew up in the 1980s can tell you, the My Little Pony figures pretty much ruled the toy aisles during this decade. They were at the top of every birthday and holiday wish list for sure. In fact, the My Little Pony figures were dubbed one of the most successful girls' toys ever by the Association of British Toy Retailers, as noted in PR Week. Colorful and cute, the first figures sold like wildfire, boosted by some truly amazing mid-80s animated features.
Thirty-five years later, these adorable ponies are still going strong. Thanks to interest from the show My Little Pony: Friendship is Magic, parent company Hasbro experienced higher than expected sales through 2014, as noted by Reuters. And it looks like pony fans are here to stay. In fact, there are countless sites devoted to fans of the show, and plenty of these fans are super into collecting the pony figurines. Hey, kids of all ages just adore these cute and colorful characters.
But if you absolutely need one of the My Little Pony Established 1983 Greatest Hits Sets, however, then attending San Diego Comic-Con is your best bet. Running from July 19 to 22, 2018, the San Diego Comic-Con is a long-running convention that celebrates comics and similar art forms, according to the organization's website. Anime, art, games, and film are also honored at this massive event.
If you can't make it to SDCC this year, however, then you might have some other chances to snag these special ponies. After SDCC, select quantities of the My Little Pony Established 1983 Greatest Hits Set will be made available at select conventions and online retailers as long as supplies last. But as cute as these retro ponies are, chances are those supplies will not last for long at all.
Of course, these ponies would look right at home in any toy enthusiast's collection, as well as a kid's toy chest. Seriously, don't forget their initial job as playthings. These rad ponies would open the conversation about leg warmers, cassette tapes, and perms with your kid, giving you the chance to explain the magic of the 1980s. So whether you want to introduce your own kids to the fashions and trends of the 1980s, or you're collecting the pieces for nostalgia reasons, these ponies are all totally rad.