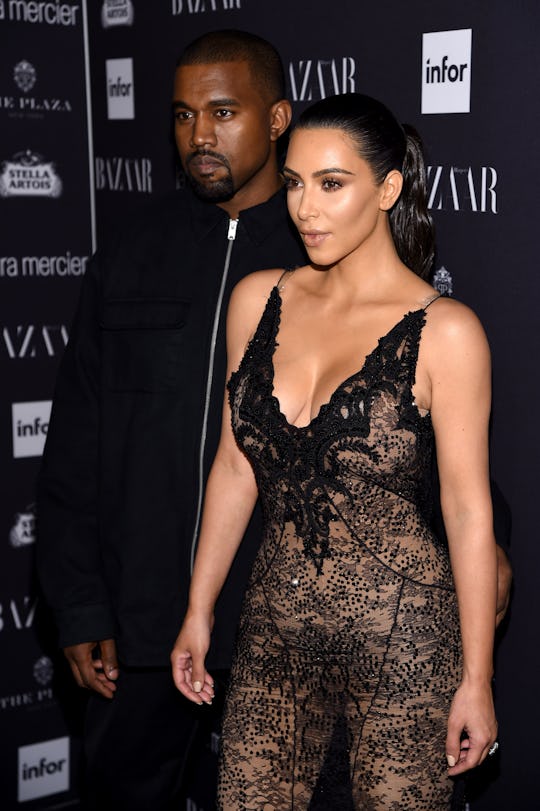 Dimitrios Kambouris/Getty Images Entertainment/Getty Images
The Nickname For Kim Kardashian's Daughter Is Really Beautiful
You may have heard that Kim Kardashian and her husband, Kanye West, recently announced that they've welcomed their third child via a surrogate. Well, the couple has also finally revealed her name — Chicago. And on Twitter on Friday, Kim let her daughter's nickname slip to fans too. Kim and Kanye's daughter's nickname is Chi, which is seriously adorable if you ask me.
On her website, Kim revealed her daughter's name, much to the delight of Kardashian fans everywhere. All the announcement post said was the baby's first and last name — "Chicago West" — and below it, a link to the original birth announcement post, along with Chi's birth date, time, and weight.
But over on Twitter, Kim dropped more clues about her baby girl's name. She retweeted at least one person who said the nickname is pronounced "Shy," not like "Chai," for example. That's definitely a super sweet nickname for a little girl, and sounds especially adorable next to her sibling's names — North and Saint.
Chi's brother and sister reportedly call her "by the nickname Chi (pronounced Shy)," TMZ reported. Initially, it was unclear where the nickname came from, or if the kids had anything to do with it in the first place. And Kim hasn't personally revealed the reasoning behind her new daughter's full first name. But it's probably a safe bet that it has something to do with Kanye's hometown — the Windy City itself, according to Hello Giggles.
In fact, when it comes to the name Chicago, a source reportedly E! News:
Kanye came up with the name and Kim loved it the significance behind the name. It was a mutual decision, which they discussed and agreed upon together.
Supposedly, Kanye did indeed want to acknowledge his hometown and his late mother, who died in 2007, a different insider explained to E! News. That insider said:
Kim loves the nickname, and North is already calling her Chi. It's super cute.
Kim and Kanye welcomed their newest addition on Monday, but waited a day to share the news with fans on Kim's website. In the post, Kim wrote, according to Marie Claire:
Kanye and I are happy to announce the arrival of our healthy, beautiful baby girl. We are incredibly grateful to our surrogate who made our dreams come true with the greatest gift one could give and to our wonderful doctors and nurses for their special care. North and Saint are especially thrilled to welcome their baby sister.
Fans of Kim and Kanye — and of the Kardashian and Jenner reality TV show family in general — went nuts over the news that their new baby had arrived, and news of her name affected them pretty much the same way. Although, some people on Twitter found the name a little more humorous than others, to be honest.
But no one seemed more excited about the news than Chi's aunt Khloé. Khloé Kardashian, Kim's sister and fellow star of the hit TV show Keeping Up With the Kardashians, retweeted Kim's tweet announcing the name and said, "I LOOOOOOOOOOVE her name 😍😍😍😍 hey Chi (shy)"
Khloé is actually expecting a baby too — her first child with boyfriend Tristan Thompson, according to Us Weekly. She's the only other member of the KarJenner camp that we know for sure is pregnant, and now she's the only one definitely expecting a baby in that family with a name that hasn't been revealed.
Khloé has teased about her possible chosen baby name in the past, however. She said on The Ellen DeGeneres Show in early January, according to People:
I think if it's a boy I'll go with Junior — Tristan Jr. Then for a girl, I don't know where to begin.
But fans aren't completely sure yet whether Khloé is expecting either a boy or a girl, or whether it will have a name or nickname anywhere near as adorable as Chi.
But that's tomorrow's news. As for the more current Kardashian baby news, it sounds like the whole family is thrilled beyond measure by their newest addition. Kim had fairly difficult pregnancies with her first two kids, so the arrival of Chi thanks to the help of a surrogate is probably even more meaningful for Kim, Kanye, and their whole family.
Kim once said that it was definitely a "harder experience" to wait for her third baby to arrive that way, and she told Entertainment Tonight:
I think it is definitely a different experience and I am blessed that I am able to do this, and technology is the way that it is that we can do this.
Looking at little Chi, hopefully all the struggles involved with Kim's decision to welcome her the way she did were all worth it in the end.
And after all it took to bring Chi into the world, her mama gave her a great nickname to take that world on, too. Take it from someone who would know — when you've got a bit of a strange first name, having a nice nickname absolutely comes in handy. Kim picked a really beautiful nickname for her daughter to go through life with, and one day, she'll really appreciate it.
Check out Romper's new video series, Romper's Doula Diaries:
Watch full episodes of Romper's Doula Diaries on Facebook Watch.