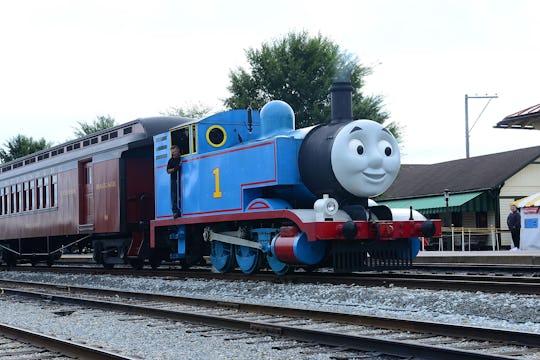 Lisa Lake/Getty Images Entertainment/Getty Images
Mattel Pushes Back Against NRA Portrayal of 'Thomas & Friends' In KKK Hoods
Most people would agree that diversity in media are beneficial to children's development and growth. Broader representation means that kids can imagine possibilities that may otherwise seem inaccessible. Then you have the National Rifle Association, which seems to think diversity is not only unnecessary, but bad. Case in point: On a Friday episode on of its NRATV shows, the NRA portrayed Thomas & Friends in KKK hoods on burning tracks in protest of the children's show's commitment to diversifying its characters. And Mattel Corp. has pushed back, condemning the NRA's move. (Romper reached out to Mattel and the NRA for comment, but has not heard back from either organization prior to publication.)
You're probably asking yourself, "Why? Why does the NRA care?" And you would be right to question that because it doesn't make any sense. But Dana Loesch, NRA spokesperson and host of NRATV's Relentless, seemed to be really angry that Thomas & Friends will now include girls characters with international backgrounds in the upcoming season, according to The New York Daily News. So much so that Loesch thought that dressing the beloved locomotives in Ku Klux Klan garb would prove her point that ethnic and gender diversity on the children's show is unnecessary because the show "literally has no ethnicities because they're trains," The Daily News reported.
Loesch took particular issue with Nia, an African steam engine from Kenya, one of four new female characters to appear on Thomas & Friends' new series, "Big World! Big Adventures," premiering on Monday, Sept. 17, on Nick Jr, Yahoo! reported. The other new cast members include Isla from Australia, Noor Jehan from India, Rebecca from the United Kingdom, and Hong-Mei from China — all created as part of Mattel's collaboration with the United Nations to promote Sustainable Development Goals to "inspire the next generation of global citizens."
The NRA spokesperson claimed on her show that Thomas & Friends doesn't need to incorporate different ethnicities because "they all have gray faces," according to Yahoo! She said during her show on Friday:
I'm really, really struggling to understand how in the world there isn't any diversity in any of this. Oh, I see it — it was the white hoods. And the burning train tracks. OK, fine, fair point. Fair. I get it.
She continued, according to Yahoo!:
Thomas the Tank Engine has been a blight on race relations for far too long. Clearly this is overdue. Right? Seriously? With trains?
Mattel, though, is having none of it. The toy manufacturer, which owns Thomas the Tank Engine, said in a statement, according to The New York Times:
We are not associated with images that promote hate and denounce any images of our brands that are being used to convey a message not in line with the values of the company.
The toy maker continued:
For more than 70 years, Thomas & Friends has delivered life lessons about friendship and teamwork to young children. At Mattel, insuring our brands promote a message of inclusivity and kindness has always been a priority.
I can't ignore the fact that Loesch is conflating race with ethnicity, which are two separate concepts, although the terms are used interchangeably. Ethnicity typically refers to one's cultural background, while race — a social construct with no biological meaning, according to scientists — often denotes skin color. Nia, the African steam engine, is gray like every other locomotive on the children's show, but her cultural background is Kenyan. Thomas the Tank Engine is gray like every other locomotive on the children's show, but his cultural background is British. There's the difference.
It's clear from her rant, though, that Loesch doesn't care about this difference. Instead, she seems to equate certain ethnicities with certain races, and the implication that Nia is Black — or from a country with a predominantly Black population — is enough to send her into a tailspin. Because heaven forbid if her perfectly gray, perfectly Eurocentric train world is a little less monochromatic.
The end is nigh, y'all.