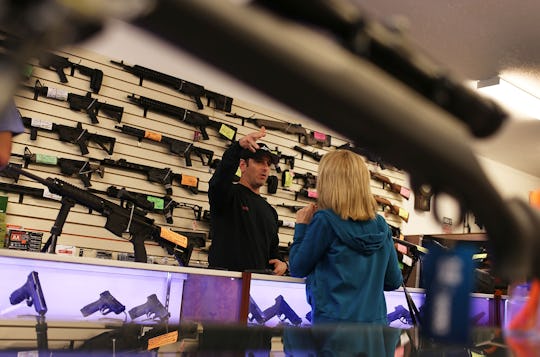 oe Raedle/Getty Images
The NRA Supported Background Checks Before & Obama Just Called Them Out On It
As President Obama participates in a town hall Q&A to further his passionate advocacy of gun control reform — specifically his executive orders for background checks — you can be sure of one thing: The NRA isn't going to participate. But they probably should: According to Obama, who spoke candidly about his longtime rivals, the NRA previously supported increased background checks on gun owners before seemingly changing it's mind. Seriously, does anyone else think it's crazy the NRA wouldn't want to at least put in some face time at a town hall about guns, especially when the president is making claims like that?
At least the press is breaking out the metaphoric "big guns." Pundits and, well, the president himself are busting the NRA on its hypocrisy. Oh, and this isn't the first time that this has happened. Back in 2013, after the Senate failed to pass a law that would expand and enforce the criteria for background checks when purchasing a gun, Obama again pointed out that "even the NRA used to support expanded background checks." According to Politifact, Obama is correct.
Following one of the first mass shootings to shake the nation, the tragic incident at Colorado's Columbine High School in 1999 which left 12 students and one teacher dead, Wayne LaPierre, the current leader of the NRA testified before the House Judiciary Committee Subcommittee on Crime on May 27, declaring that he was pro-background checks. "We think it's reasonable to provide mandatory instant criminal background checks for every sale at every gun show," LaPierre testified. "No loopholes anywhere for anyone."
However, though gun violence has increased over the past decade, the NRA has seemingly retracted its position on comprehensive background checks since then (with no explanation as to why). In a comment to CNN in January 2013, the NRA officially admitted that its latest policies were in contrast with LaPierre's statements in 1999, saying,
Subsequent statements by NRA officials acknowledge that the group's position has since changed to opposition to more background checks.
I guess that's one thing the NRA and President Obama agree upon: LaPierre did go back on his word. How that can mean two very different things is unfathomable, but might help explain why the discussion on gun control the hot topic it is for all Americans.
Images: Joe Raedle/Getty Images