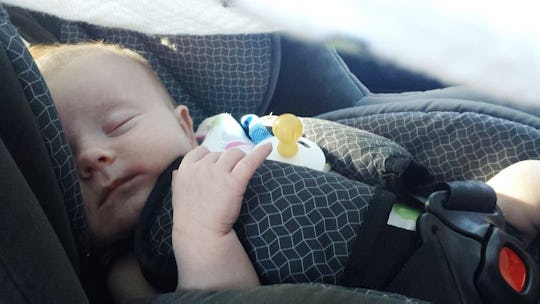 Pixabay
32 Children Have Died After Being In Hot Cars This Year, & It Is Horrifying
As July comes to an end, the number of hot car deaths in the United States this month is truly devastating and serves as a heartbreaking reminder to every parent and caregiver about the dangers of such incidents. Across the nation, 11 children — including a 7-week-old infant and more than five toddlers — have died from vehicular heatstroke in seven different states this month alone, according to a report from NoHeatStroke.org, a website that has tracked hot car deaths for two decades.
The most recent tragedies happened just days ago on July 29 and the day prior, when temperatures peaked over 100 degrees. Both children — two baby boys, a 7-month-old and a 1-year-old — were left in hot cars in Phoenix, Arizona, according to data from NoHeatStroke.org.
USA TODAY reported that July has gained a rather cryptic reputation for being the deadliest month for children in overheated cars. And these numbers make it the deadliest month again in almost a decade. (In July 1999, there were 16 reported hot car deaths in July and 11 such deaths in 2008 in the same summer month.)
So far this year, 32 children have already died from being left in a hot car, while the average number for the entire year is 37, according to numbers dating back to 1998 collected by NoHeatStroke.org.
The uptick of hot car deaths this month is alarming — there were nine such incidents in 2016 and just three in 2015 — and hotter weather along with a change in a family's daily routine may be partly to blame.
"The warmer months are the biggest variable, but in summer months people's routines are changed, so that could be a contributor," Jan Null, a meteorologist for Golden Gate Weather Services and behind NoHeatStroke.org, told USA TODAY.
However, it's important to note that hot car deaths don't only happen in the summer months. In 2017, four children died this way between February and March and another six cases occurred in April and May, according to data from NoHeatStroke.org.
"It does not have to be an extremely hot day for these incidents to happen," Null told USA TODAY.
In fact, a car parked with its engine not running can spike from 80 degrees to 130 degrees in just 10 to 15 minutes, according to a investigative report from TODAY Parents. Also, because children are more susceptible to temperature extremes (hot and cold), overheated cars are especially dangerous as kids are less able to regulate their body temperature, according to the American Academy of Pediatrics (AAP).
This month's tragic deaths serve as a reminder to parents to always be alert about this type of danger as it can happen to anyone.
"It happens to even the most well-intentioned parents. There are a few factors," Amber Andreason, the director for KidsandCars.org, told KSHB in Kansas City earlier this month. "Number one is almost always not enough sleep. And in almost all cases there is a change in routine for the parents. They get a work call on the way to the day care or they change the order of their day."
While there are plenty of ways to remind yourself about your little one in the backseat, KidsandCars.org advises parents to always "look before you lock" and make opening the back door part of your routine anytime you park your car. Parents can also put their phone or their purse in the back so they have one extra reminder to look back there — because the simplest reminder could be a lifesaver.