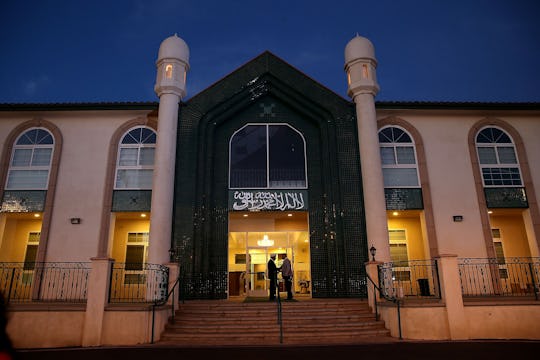 Justin Sullivan/Getty Images News/Getty Images
Number Of Mosques Targeted In The US Doubles
In the United States, there's one depressing statistic that's risen a scary amount in the last year: According to CNN, the number of mosques targeted in 2017 has nearly doubled, with 33 incidents taking place so far. (In the same period of time in 2016, 17 mosques were subjected to threats and incidents of vandalism or arson.) With a growing number of attacks on the Muslim community and several governmental policies that target those from Muslim-majority backgrounds, it's more important than ever for Americans to support mosques and the Muslim community.
The 33 attacks this year have taken place in 19 different states, and mosques have been burnt down, vandalized, robbed, and threatened. With politicians at home and abroad frequently targeting the Muslim community, it's perhaps no surprise that the number of threats and attacks against mosques has increased. President Trump's administration has tried to temporarily ban travel from several Muslim-majority countries twice since taking office — with judges shooting down both bans as unconstitutional — and on Tuesday, the White House imposed new travel restrictions on eight Muslim-majority countries. The Justice Department has had to intervene an increasing number of times in towns where local communities have refused to approve the construction of mosques.
For those who want to take a stand against hate and support their neighbors and friends, here's several ways you and your family can support the Muslim community.
Educate Yourself Or Visit A Mosque
Get to know a bit more about the Muslim faith. The Islamic Networks Group exists to educate people "for cultural literacy and mutual respect." Prejudice is often founded in fear, and to be able to help combat that, it helps to know as much as possible. Considering that 1 in 2 young Muslims faces bullying or harassment at school, maybe consider approaching your school with ING's academic resources or suggest a presentation.
As activist Tariq Yusuf wrote in the Seattle Globalist, people can also attend mosques or interfaith events. "Potlucks, football game viewings, or casual coffee chats are great ways to casually show support both in good times and bad," Yusuf wrote.
Donate To Or Volunteer With Organizations Fighting Prejudice
This is an easy one! There are so many organizations out there that are fighting to protect Muslim individuals' rights in the United States, including the American Civil Liberties Union, the Council on American-Islamic Relations, legal advocacy group Muslim Advocates, the Muslim Public Affairs Council, and more.
If you have more spare time than money at the moment, consider volunteering. Many groups will happily take on volunteers, and it's a great way to help out.
Talk To Your Representatives
Your representatives in Congress are meant to represent your interests, so let them know where you stand when it comes to travel bans and ask them to speak up for local Muslim communities. Find your representative, then engage them in a conversation on the issues in a local meeting or on the phone. Be specific, and feel free to draw from advocacy groups' talking points during discussions.
Share The Message
Whether responding to incorrect information on Facebook, helping spread the crowdfunding or donation page of a mosque that's been attacked, or simply stopping by a targeted mosque to express support, make sure you're amplifying advocates' messages and speaking out against misinformation.
More than anything else, the key is listening to and supporting Muslim communities' and organizations' efforts. "The primary thing I would say is for folks who are not already involved in this work to listen to and take leadership from organizations that have solidly been doing this work [and] who know the details," Fahd Ahmed, part of advocacy group Desis Rising Up and Moving, told Vice last year.
There may be a rising number of hate acts and hate groups in the United States at the moment, but there's also good news: There have been an unprecedented amount of people stepping forward to volunteer and donate. You can be part of that positive tide, too, in whatever way works for you at the moment.