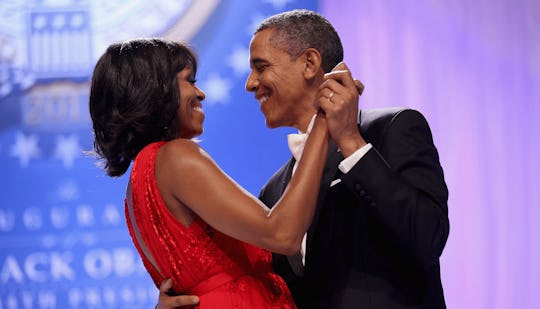 Chip Somodevilla/Getty Images News/Getty Images
The Obamas Are Celebrating Their Silver Anniversary, & Their Messages To Each Other Are Too. Much.
After what feels like week after week of tragedy and destruction, I think everyone could use a nice reminder that there is still good in the world. On Tuesday, the Obamas are celebrated their 25th wedding anniversary and their mutual celebration of their love for each other is exactly what the world needs right now. On Tuesday, Michelle shared a sweet anniversary message to Barack on social media, featuring a photo from one of their happiest of days 25 years ago.
Thanks to his being the first presidency in the age of social media, President Barack Obama has shared some of delightfully adorable photos of him and Michelle over the years — and she's done the same on social media, too.
The Obamas are total relationship goals. Not only do they have no problem sharing intimate glimpses into their married life, they really are just the cutest. There's something really genuine about their public displays of affection for one another that makes them such a compelling couple, even out of the White House spotlight. While the current First Lady swats away her husband's hand, Barry and Michelle aren't shy about full-on lip smooches. Who can forget the Obamas' steamy Kiss Cam moment?
Here are some of the Obamas' sweetest couple photos they've shared with the world.
I Do
Michelle showed her love by taking social media followers back to where it all began — and Barack did the same thing for their 21st wedding anniversary, too.
So In Love
Last year, Barack's anniversary Instagram and tweet to Michelle were just too much, showing their beautiful, casual candor together.
Dinner For Two
This photo is sweet if only for the glimpse of their life as a "normal" couple. If this isn't the perfect setup for Netflix and chill, I don't know what is.
Simply Smitten
Barack definitely made it difficult for every guy in a relationship this past Valentine's Day with this photo of Michelle looking practically giddy. The "it always feels new" is a total swoon-worthy caption, too.
Birthday Wishes
Barack's birthday greeting game is strong.
But then again, Michelle's pretty good at leading the birthday brigade on Twitter, too. It's definitely something special when you get to a point where you've celebrated that many birthdays together as a couple, and it really shows in their birthday messages to each other.
Holiday Hilarity
This is definitely one of those very "loud" photos where you can practically hear Barack saying, "He's even got his own tiny Popemobile!"
I love that the Obamas celebrated Pi Day by actually having pie together.
Family Fun
I love this throwback family photo of the Obamas when their daughters, Sasha and Malia, were still pretty young: Malia is rocking the no-two-front-teeth look while Sasha cuddles with her mom.
Young Love
As someone who's spent 20 years in total with her husband, it's fun to go back and look at photos from the earliest days of our relationship. This undated photo of Barack and Michelle shows just how young they were — as well as how head over heels Michelle was while Barack just tried to play it cool.
In an essay for Oprah, Barack recounted his first date with Michelle in 1988:
On our first date, I treated her to the finest ice cream Baskin-Robbins had to offer, our dinner table doubling as the curb. I kissed her, and it tasted like chocolate.
Oh stop — I just can't.
Campaign Companions
Even though Barack handily won reelection in 2012, Michelle was by his side on the campaign trail, and there to celebrate their mutual victory on election night.
A Kiss To Build A Dream On
Ah yes, the famous Obama Kiss Cam moment: In 2012, at an exhibition basketball game between the U.S. and Brazilian teams, the Obamas missed their Kiss Cam moment, to the boos of the crowd. Michelle later explained she didn't realize that the Kiss Cam had been pointed at them. When it landed on them again, Malia gave her parents the nudge to go ahead and smooch before the camera panned away again — and smooch it up they did.
Happy 25th anniversary, you two lovebirds.
Watch Romper's new video series, Romper's Doula Diaries:
Check out the entire Romper's Doula Diaries series and other videos on Facebook and the Bustle app across Apple TV, Roku, and Amazon Fire TV.