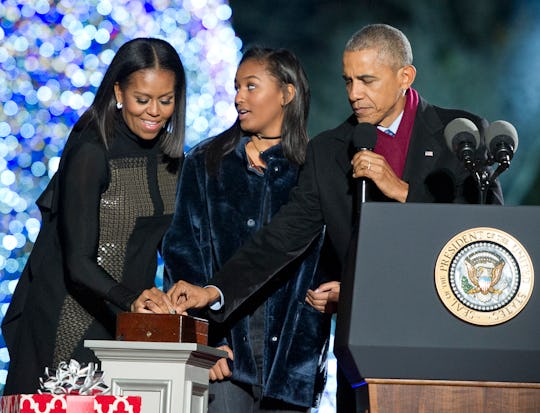 Pool/Getty Images News/Getty Images
The Obama's Last Holiday Card Shows Just How Far They've Come
2016 has been a very eventful year to say the least. As the year comes to an end, people will choose to remember the good things from this year (Beyonce's Lemonade) and forget the bad (the presidential election). But there is one certain person that people will have to say goodbye to as we head into 2017 — President Barack Obama and his family, as they leave the White House and start anew in Washington D.C. But before they leave, the Obama's graced citizens with one last present — their holiday card. Believe me when say, the Obama's last holiday card might make you cry due to the sheer beauty of it all and the sadness the last holiday card brings.
The Obamas are truly an elegant family. Thanks to Michelle, people everywhere have been introduced to one of the most classy sayings — "when they go low, we go high" — that can be used in any situation, ever. The Obama's elegance carries more than in their words — their elegance has carried to their appearances, too which can not be clearer in their 2016 holiday card.
When we were first introduced to Malia and Sasha Obama in 2008, they were 10 and 7 years old, respectively. In the eight years since moving into the White House, the Obama girls have definitely grown up — they're full blown teenagers. Americans have seen Malia learn to drive and get admitted to Harvard and watched Sasha work in her first job. The Obama's last holiday card shows how much they've grown over the time of their father's presidency. The family could not look more beautiful.
Seriously, the Obama's holiday card might make people cry from the nostalgia of how grown the Obama girls look, or how elegant the family looks as a whole — but also maybe tears of sadness, for this is the last White House holiday card the Obama's will ever have. The inside of the card, which is even signed by the Obama's dogs, reads:
As our family reflects on our many happy years spent in the White House, we are grateful for the friends we've made, the joy we've shared, and the gifts of kindness we've received. We wish you and your loved ones a joyous holiday season and a wonderful new year.
The Obamas are truly a national treasure and will definitely be missed once they become normal citizens again. With only one month left in the White House their last holiday card displays their elegance and is a true parting gift to those who will miss them once they leave.