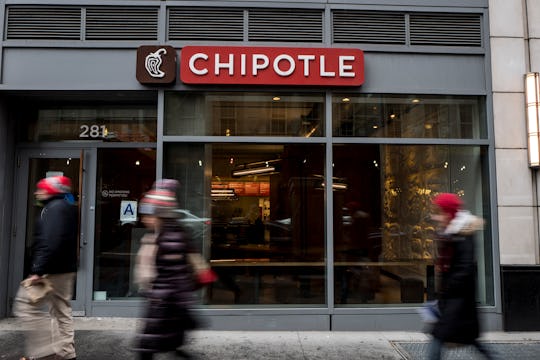 Andrew Renneisen/Getty Images News/Getty Images
A Chipotle Order To Get Baby Out Of Your Belly
Pregnancy can feel like it lasts years, and those last few days might stretch on for an absolute eternity. If you want to tell your baby that it's go time already, you might try the one Chipotle order to induce labor. Because if you're going to wait for those first signs of labor to kick in, you might as well do so while noshing on a burrito bowl.
Granted, the idea of eating certain foods to induce labor naturally may be a bit lacking in the scientific study department, but there's likely no harm in giving this meal a try. After all, you may just go into labor after eating it. And if you don't, well, you still get to enjoy Chipotle. There's not much of a downside.
For starters, you might want to kick things off with a burrito bowl to hold your massive feast. Going for the cilantro-lime rice is probably a good call, given there is (highly anecdotal) evidence that eating a bunch of cilantro could help induce labor, as noted in The Bump. Granted, it's probably an old wives' tale, but you have a fantastic excuse to enjoy the white rice. Throw in some black beans or pinto beans, too, for a little added protein. You'll need your strength for labor, after all, whenever it does finally occur.
Now it's getting down to the crucial part of your order. Opting for the free fajita veggie mix is a good idea, because it contains oregano. And, according to Just Mommies, there is (more or less folkloric) evidence that oregano may help you go into labor. Also, it's free, so why not?
Next, it's protein time, and you want to opt for as much spice as you can handle. As noted in What To Expect, eating spicy food has long been touted as a way to start labor. And while there is no hard evidence to support this claim, it probably can't hurt you, either. So it's time to go hot. According to Chiptole's website, carnitas are the mildest order, so you're free to go for just about any other option. The steak is sometimes touted as an especially spicy option, although the sofritas — with two types of peppers, as well as a dose of oregano — just might stand out as the baby-waking option of choice.
You're in the final stretch. Toss on as much hot tomatillo-red chili salsa as you can stand. In fact, Chipotle's own blog anecdotally notes that the hot tomatillo salsa has been used as a labor inducer by many women, even those who aren't usually keen on the super-hot stuff. It's worth a shot if you're willing to stand the heat for the duration of your meal. At the very least, you'll have something to distract you for a few minutes as you wait for your baby to arrive.
In the meantime, order chips and guac (for taste, not labor reasons) and enjoy your meal. Hopefully your baby will decide to make her debut soon after. If not, at least you got to treat yourself a little bit before the big day.