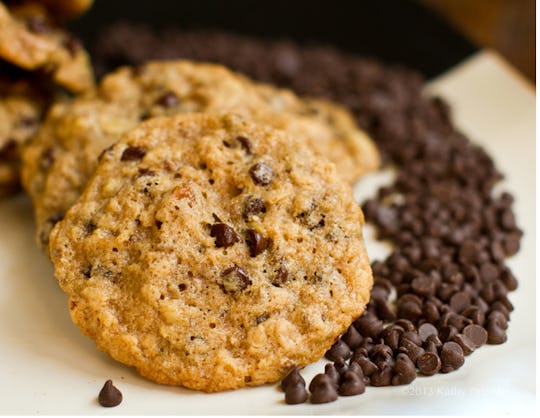 The One Chocolate Chip Cookie Recipe To Satisfy Your Pregnancy Cravings (And It's Healthy Too!)
Few foods are more crave-worthy than homemade chocolate chip cookies fresh from the oven. They're just so delicious and provide the best kind of comfort. But if you're trying to eat healthy – like most pregnant ladies – you may have to modify your cookie consumption, which is tough when hat's the only thing you want to eat. You can try to use some recipes for healthy baked goods, but sometimes results can be less than stellar.
But there is one healthy cookie recipe that pregnant women (and non-pregnant women, and men, and pretty much everyone) can enjoy without any hang-ups. And if you've been burned by healthy cookie recipes in the past, don't fear: these cookies are so rich and flavorful you'll never miss the junky ingredients. Oh, and as a bonus: they're vegan! So if you're avoiding animal products, you can still indulge in these great little confections from Lunch Box Bunch.
Is this real life? You can make chocolate chip cookies that are delicious, satisfy your sweet tooth, and give your health a boost? Yes. It's a pregnant lady's dream come true. So fire up your ovens, moms-to-be: Lunch Box Bunch's chocolate chip cookies are the treats you've been wishing for.
Why are these cookies healthy? Let me count the ways. They include walnuts, which are rich in omega-3 fats that may help support your baby's brain growth. The oats provide dietary fiber, which may lower your cholesterol. And if you opt for dark chocolate chips, you might benefit your brain (or at least boost your mood).
What are you waiting for? The next time you're daydreaming about the perfectly chewy, chocolaty cookie, whip out this recipe from Healthy Happy Life and bake away. You'll have these perfect treats ready in no time. And the generous batch means you'll have plenty of cookies to share with those who aren't eating for two (if you feel like it!).
Images: Courtesy of Happy Healthy Life (2)