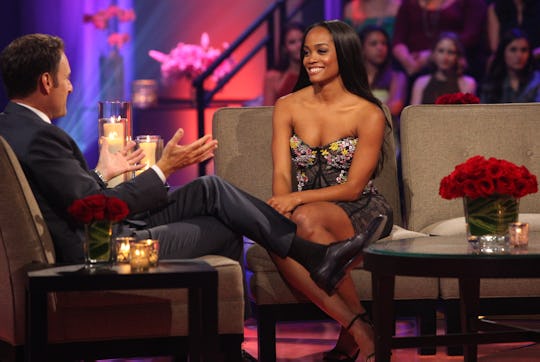 Paul Hebert/ABC
The One Detail From 'The Bachelorette: Men Tell All' You May Have Missed
This season of The Bachelorette is, unfortunately, coming to an end. But there's one event Bachelor Nation can always look forward to: Men Tell All. The eliminated contestants come back to discuss all the drama and broken hearts from this season. Usually, most of the men who made it at least past the first rose ceremony come back, including the eccentric ones. There was one contestant in particular who raised a few eyebrows this season: Jonathan, better known as "Tickle Monster." He definitely made an impression on Rachel... and during the special. In fact, there's one detail from The Bachelorette: Men Tell All viewers may have missed regarding Jonathan's ticklish tendencies.
Jonathan's reputation preceded him on The Bachelorette. His ABC biography listed the 31-year-old's occupation as "Tickle Monster" which is... an interesting choice. Turns out, Jonathan's really a doctor, but being a tickle monster is his schtick. He tickled Rachel as soon as he came out of the limo — and, somewhat surprisingly, he stuck around for a few weeks. As seen during the bloopers during Men Tell All, Jonathan didn't use just his hands to tickle — but a pair of giant hands. Bachelor Nation saw how he would (innocuously) tickle the other contestants (and Rachel!) with those fake giant hands.
Needless to say, one of the producers thought it'd be funny to do something a little tongue-in-cheek for Jonathan. On Men Tell All, he was sitting on a giant hand himself:
Yes, some genius on The Bachelorette thought to sit the Tickle Monster in a giant hand. Eagle-eyed fans were quick to notice, but neither Chris Harrison nor any of the men brought attention to it. Seeing as Jonathan wasn't on the show that long, and he wasn't really a part of any drama, he didn't have much to say during Men Tell All. This was a cute way to get him more involved — or to reward especially observant viewers.
From the bloopers, it seemed that Jonathan may have been an annoying but lovable presence on the show, so the producers may have done this as an ode to him. While he wasn't even close to winning Rachel's heart (sorry, Tickle Monster), he was certainly one of the more memorable contestants this season. Bachelor Nation will want to keep their eyes peeled for other Easter eggs in future Men Tell All's and this season's After the Final Rose.