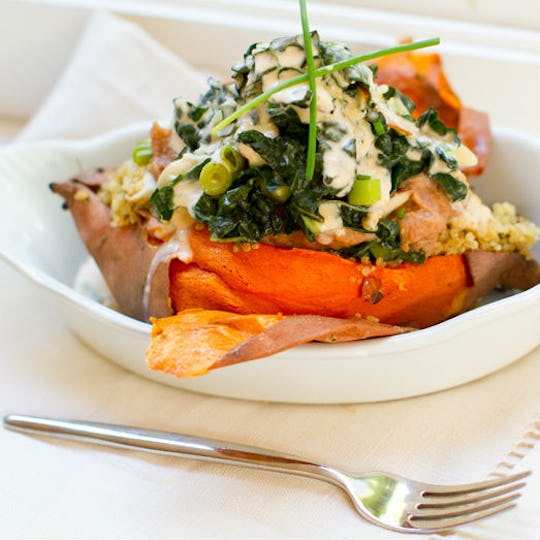 The One, Foolproof Thanksgiving Dish That Everyone Will Love (Yes, Even A Picky Child)
It's not easy to come up with a Thanksgiving dish that everyone likes. You might have guests that are Paleo, gluten-free, vegetarians, vegans, allergies — you name an ingredient, there's the possibility that somebody will need to avoid it. Especially since this is a holiday where you want to promote inclusivity and how grateful you are that everyone has gathered at your place to eat together, finding that one recipe to serve that suits everyone is of utmost importance. All those dietary restrictions would post a trickier situation, of course, if there wasn't at least one side you could give to guests without having to worry even a little bit if everybody could eat it. That special, all-encompassing dish? The humble stuffed sweet potato from Happy Healthy Life.
Here's why you need to include stuffed sweet potatoes at your Thanksgiving table. Anyone can eat a sweet potato, and what guests choose to stuff them with is completely up to them. From vegetarians who can't do bacon bits to the gluten-free guest who needs to stay from the roll basket, the sweet potato poses the best, right-down-the-middle option for all. You can provide plenty of diet-friendly toppings for the restrictions crowd such as steamed spinach, quinoa, and chives. With this option you can even please the picky eaters over at the children's table by providing some classic, not-so-healthy stuff, too, like sour cream and pats of butter. (Oh — and the less healthy options obviously aren't restricted to just the kids. The beauty of the idea is to let everyone do Thanksgiving their way.)
Since this is the most crowd-pleasing option for your Thanksgiving table, you could even make an awesome sweet potato bar featuring all the toppings guests might want to stuff into theirs. What's great about these guys, in addition to their versatility (seriously, they go with just about anything) is that at a base level they're beneficial to your health. Sweet potatoes alone are good for your heart, maintain your blood sugar, and even help with stress, which, let's face it, might actually be perfect after a long day of navigating tons of people and plates. Have your relatives celebrate being thankful for you this year with this classic dish that anyone can make their own no matter what they're able to eat.
Images: Courtesy of Happy Healthy Life (2)