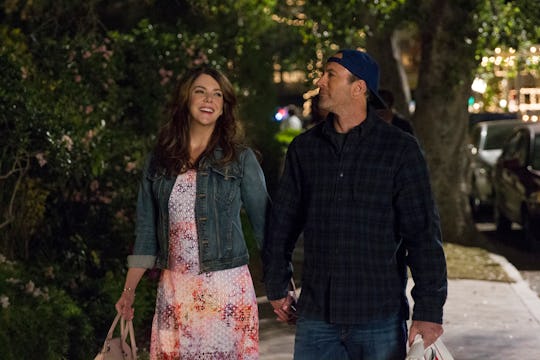 Saeed Adyani/Netflix
The One 'Gilmore Girls' Revival Cameo You May Have Missed
Fans expected to see a lot of familiar faces pop up in Stars Hollow throughout Netflix's Gilmore Girls: A Year in the Life. However, they may not have expected to see quite as many amazing cameos from special guest stars. For example, Lauren Graham's Parenthood costar and real-life beau, Peter Krause, was a very nice surprise to find. However, there's one Gilmore Girls revival cameo you may have missed since it was not only brief, but happened at the very beginning of the series in "Winter." I'm referring to the cameo appearance of Carole King's daughter, Louise Goffin, who showcased her vocal chops as the town troubadour's sister.
That's right, my friends — the daughter of the Carole King was in the revival. Though her mother's character, Sophie Bloom, and her own never interacted with each other, it warms my heart to know that the two of them were on the set together, especially considering that King and Goffin were the voices behind the much beloved Gilmore Girls theme song "Where You Lead." In fact, the song was originally about a romantic relationship, but was eventually revamped into a mother-daughter mantra specifically for the series. So it was only fitting that King made it into a duet between her and her daughter.
As for Goffin's cameo, like many others it was brief. She's seen singing outside in the middle of fresly snow-covered Stars Hollow right before getting chased out of town by her brother, who we know from past experiences doesn't like it when someone else invades his turf. Evidently he doesn't even make an exception for family members. And that's it, we never hear from her again. But really, that in and of itself is all fans really needed. It was a perfect nod to Goffin's contributions to the show and served as a nice little Easter egg for diehard fans.
As of now it's hard to say whether or not a Season 2 of Gilmore Girls: A Year in the Life will ever be in the works, but if this is what Amy Sherman-Palladino has gifted us with, I can't deny being satisfied. Maybe not by the final four words, but there were a lot of things about the revival that I loved and that includes all of these subtle (yet awesome) cameos. Wherever this show leads us next, you better believe I will follow.