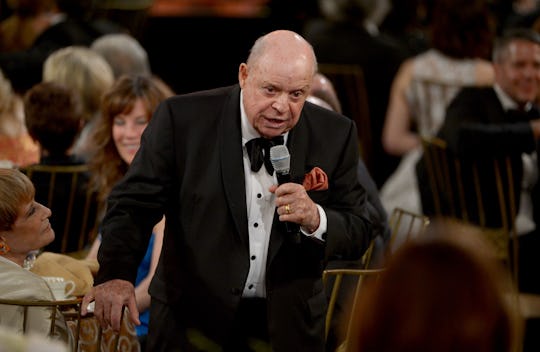 Kevin Winter/Getty Images Entertainment/Getty Images
The One 'Toy Story' Scene To Remember Don Rickles
Comedian Don Rickles died of kidney failure on Thursday, TMZ reported. Rickles had an amazing and long career, but to many, he's most famous for voicing Mr. Potato Head in the Toy Story franchise. Here's the one Mr. Potato Head scene to remember Don Rickles by.
Of all of Andy's toys, Mr. Potato Head tended to be, well, a sourpuss. That side of him definitely shined when he mistakenly thinks Woody is trying to kill Buzz Lightyear the day of Andy's move. Mr. Potato Head rallies for the other toys to toss Woody overboard, and Rickles' delivery is priceless.
Rickles died at the age of 90 in his Los Angeles home. Rickles was known for a sense of humor that crossed the line, as he often roasted celebrities at The Friar's Club. He received a lifetime-achievement award for comedy from The Friar's Club in 2013. He appeared on The Tonight Show With Johnny Carson in 1965, had his own variety show, and made appearances on Newhart and The Dick Van Dyke Show.
To those close to him, the source of Rickles' ribbing came from his childlike nature. "It's like when you're having a cocktail party at your house," Bob Newhart told the New Yorker in a profile on Rickles' life, "and your kid comes over to say, 'That fat lady in the red dress wants another Martini.' Rickles is that kid."
Rickles never used strong curse words, which made him a perfect match to play the snarky funny-guy in a kids' movie. In the first Toy Story film, Mr. Potato Head makes a joke to Hamm that he's Picasso when he makes an abstract version of his face. Hamm says he doesn't get the joke and walks away, leading to the hilarious line where Mr. Potato Head calls him an "uncultured swine."
But for all of his crankiness, ultimately Mr. Potato Head has a good heart. Nothing shows that better than the second Toy Story film, which has a scene where Mr. Potato Head saves the aliens when he and the other toys drive a real car to rescue Woody. "We are eternally grateful," they tell him, and he responds in his usual brash style "Yeah, yeah, yeah, whatever." But you know deep down, he's a good spud.
And despite his politically incorrect sense of humor, like Mr. Potato Head, Rickles had a good heart. Known as "Mr. Warmth," for years, Rickles would end his comedy routine with a prayer that he would one day see "all bigots vanish from the earth," according to the New Yorker. It's likely that Rickles did not finish recording his part for the fourth Toy Story film, which means that Mr. Potato Head will likely have to be recast. But for all of us who grew up with him, Don Rickles IS Mr. Potato Head.