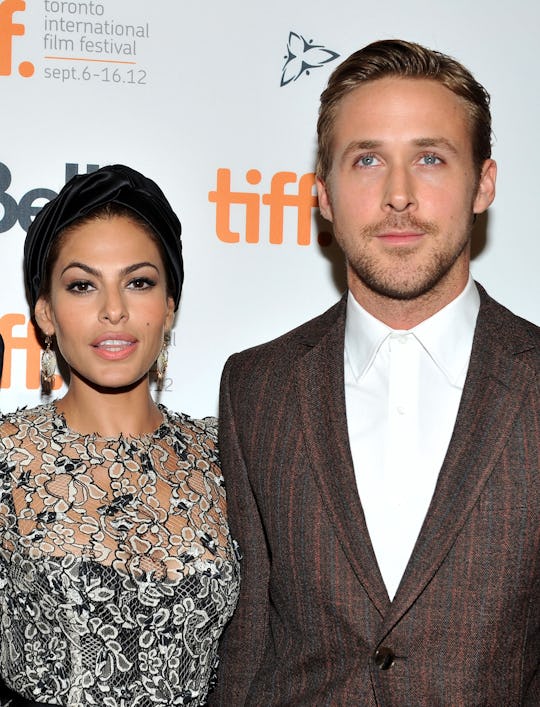 Sonia Recchia/Getty Images Entertainment/Getty Images
The One Parenting Technique From Eva Mendes & Ryan Gosling That All Parents Can Learn From
Celeb couple Eva Mendes and Ryan Gosling might have just achieved ultimate spy status. Just two weeks — two weeks — after the world learned that the actors were expecting their second child, the couple had already welcomed her into the world, according to entertainment site TMZ. And, according to a birth certificate obtained by TMZ from an unknown source and posted online, the couple's new daughter, named Amada Lee Gosling, was born on April 29. As in last month. Seriously. But as maddening as the couple's tendency toward privacy might be for their fans, there could be a real lesson for parents in this parenting technique from Eva Mendes and Ryan Gosling. The couple has become pretty adept at keeping their private lives under wraps — and that might be the best gift for their daughters in the long run.
First of all, how does a celebrity — indeed, a woman, with one of the most recognizable faces in Hollywood — even manage to pull off an entire pregnancy without anyone taking notice? Or better yet, how does she manage to do it twice? Apparently, the couple had stayed away from the paparazzi in recent months, according to Hollywood Life. And, when they finally emerged several weeks ago, the actress chose the route of some old-fashioned sitcoms and hid her bump using a bit of camouflage in the form of flowy dresses, oversized bags, and well-placed props.
Forget staging a sneaky gender reveal. These two took their super secret agent techniques to a whole new level.
Despite the TMZ report, so far neither star has come forward to confirm the baby's arrival. Romper reached out to both actors' reps for comment and is awaiting a response. Still, Mendes has spoken before about why she and Gosling make keeping their family lives private such a priority, and it's a perspective that any parent could find valuable. In an interview with beauty blog Violet Grey after the birth of her first daughter, Esmerelda Amada, Mendes shared why she felt the need to avoid the spotlight during her pregnancy:
Whether we like it or not, privacy is going to be very difficult for Esmeralda. I think it's unfair but that's our reality. So Ryan and I decided early on to give her as much privacy as we could. And my pregnancy was the first opportunity to give her that. It's such an intimate time for the mother, too. I know that it seems all very innocuous when you're flipping through a tabloid at the doctor's office or see a photo of a pregnant lady online, but I find the media's 'bump watch' obsession to be both intrusive and stressful. So I made a decision to eject myself from it completely. I was like, 'Annnnd I'm out.'
As an added benefit, Mendes said in her Violet Grey interview that avoiding the probing eye of fans and cameras allowed her to spend her time "relaxing and enjoying [her] pregnancy," surrounded by those closest to her — many of whom helped the actress take care of little Esmerelda in those first difficult weeks:
I was constantly with family. I have eight nieces and nephews so my brothers and sisters know a thing or two about what to expect when you're expecting. I have a very tight-knit family and the pregnancy brought us even closer together.
One can only assume that little Amada will spend her first months tucked away much like her older sister, surrounded by that same cocoon of loving support.
The couple's commitment to privacy is pretty admirable. Aside from the births of their daughters, they've managed to keep the entire nature of their relationship under wraps for (presumably) years. Late last year, E! Online reported rumors that Mendes and Gosling were engaged, while other outlets said that Mendes had given Gosling an ultimatum about tying the knot, demanding that they marry before Christmas. Unsurprisingly, whether the two married or didn't is unclear.
But what is clear is how perfectly content the couple seems to be keeping everyone guessing. Not only will their intensely private natures protect their daughters — who will be hard-pressed to find embarrassing photos of themselves or their parents online in later years — it means that the little family will be able to make (and protect) their own perfect family picture. That's more than enviable. In the age of oversharing and overexposure, that's downright beautiful.