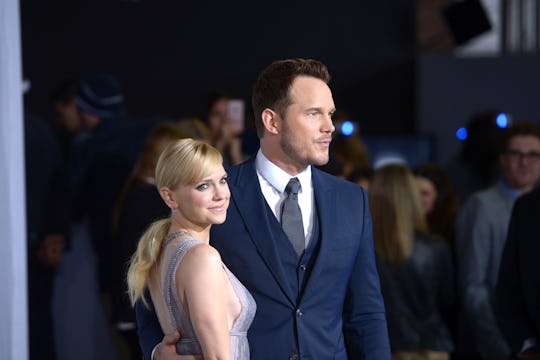 Matt Winkelmeyer/Getty Images Entertainment/Getty Images
The One Part Of Anna Faris' & Chris Pratt's Announcement We Shouldn't Overlook
It's a sad day for fans of Anna Faris and Chris Pratt: the beloved star couple announced Sunday that they are legally separating after eight years of marriage. Given that the actors' relationship had always seemed totally solid, the news came as a pretty big surprise, and it's inspired countless memes and tweets from people feeling pretty heartbroken that the couple is no more. But as much as our collective sadness might naturally inspire theories about what went wrong in their relationship, this one part of Anna Faris' and Chris Pratt's announcement is a reminder that beyond simply being celebrities, they are also a very real family going through an extremely challenging time.
In a joint statement shared on Facebook, the couple wrote that they'd "tried hard for a long time," according to People, and that they were "really disappointed" that they'd ultimately come to the decision to go their separate ways. That's a sentiment that seems to be shared by everyone who looked to Faris and Pratt as an example of total celeb #relationshipgoals, but the truth is that, for the couple themselves, the end of their relationship is about so much more than just their feelings for each other. That's because as parents to their 4-year-old son, Jack, Faris and Pratt will now have to navigate co-parenting even though they are no longer together — and that's something that can't be particularly easy.
One thing that their statement makes clear though is that they definitely seem to be dedicated to figuring out how to co-parent, as well as to ensuring that their son still continues to have just as much love and stability in his life going forward as he always has. So though they obviously knew their split would naturally attract media headlines, Faris and Pratt appealed to privacy in the announcement, and wrote, "Our son has two parents who love him very much and for his sake we want to keep this situation as private as possible."
That might be a difficult goal to accomplish, especially since celebrity breakups often feel like totally fair game for public analysis and criticism. And when you're as adored a couple as Faris and Pratt — I mean, their relationship was downright envy-inducing — curiosity into the details of their downfall seems inevitable. But the fact that they have a young son who could really be hurt by that curiosity is a reminder that, despite their fame, they still deserve to deal with their private relationship issues, well, privately.
Faris and Pratt have made no secret of their devotion to their little boy, and both have publicly gushed about parenthood in interviews in the past. In a 2015 appearance on The Ellen DeGeneres Show, Pratt spoke about his "remarkable" son, and how he is constantly amazed at what comes out of his mouth, according to TODAY. Sharing a story about Jack's reaction to a visit with extended family during the holidays, Pratt said,
I was sitting down and I said, 'You know, Jack, there's a lot of people here and it's very loud and people are going to be having a lot of fun and there might even be some tension.' And he just said, 'It's family,' I almost started crying.
Last month, Faris also spoke about her son in an interview with People. When asked about her favorite parts of motherhood, she said, "It's just so fascinating watching [Jack] become a person. It's so rewarding." And unsurprisingly given his lineage, Faris also shared that her son was turning into quite the comedian. The actress admitted that Jack's sense of humor often made it hard to discipline him, and said, "I try ... [but he'll] be like, 'Mom, I have cheese foot! My foot smells like cheese!'"
Although the couple's high-profile careers mean that decision to separate has made headlines, the fact that they are also just a couple trying to raise their son makes their split more than just celebrity gossip fodder. Regardless of the fact that they've made their living in the spotlight, their son deserves as much privacy and protection as possible at a time that can be totally devastating for any child.
From the sounds of it though, Faris and Pratt will definitely be making his well-being a priority like they always have — and that's important, regardless of whatever other details may emerge in the days and weeks to come.