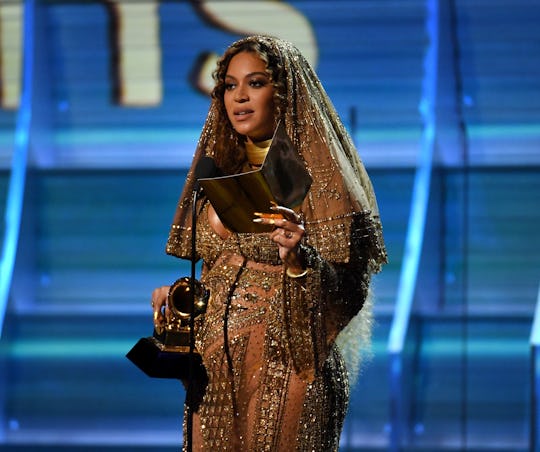 Kevork Djansezian/Getty Images Entertainment/Getty Images
The One Person Missing From Beyonce's Twins' Photo
Like parched travelers wandering through a desert, for weeks we have been eagerly awaiting photos of Beyonce's twins, Rumi and Sir. On Friday morning, at a ridiculously early hour, Bey dropped the first Instagram of the twins' birth announcement, a stunningly lush image that referenced her pregnancy announcement in February. Yet there was one person missing from both Beyonce's pregnancy announcement and her twins' photo, and his absence says a lot about our cultural conception of motherhood.
Since Beyoncé announced that she was expecting her twins in February, media scrutiny has largely focused on her. Considering she was the one actually carrying the twins, this makes a lot of sense — but it also raises questions about what role husband and father JAY-Z is playing during this time, and why he hasn't yet made an appearance in his wife's few public announcements.
Although JAY-Z has been in the public eye more as of late with the release of his 13th studio album 4:44, he's stayed mum on the birth of Rumi and Sir. Although he reportedly attended a Roc Nation event and went out to eat with his wife at Nobu on Wednesday (a move that will surely attract the ire of new mommy-shamers), he hasn't said anything about his wife's pregnancy or childbirth, and considering how private he is, that will likely remain the case for quite some time.
This all makes a lot of sense, but it does raise the question: why is JAY-Z absent from the few very public gestures that Beyoncé does make about her pregnancies? And, perhaps more importantly, why does no one comment on his absence? Is it because we merely expect Beyoncé to take full ownership of her own experience of motherhood and pregnancy? Probably, and that's fine. But it's worth noting that pregnancy and parenthood are still considered solely within the maternal, while fathers are considered secondary figures, if they are even considered at all.
To be very, very clear: this is not to make the claim that JAY-Z is an absentee father, or to take him to task for caring "less" about the twins than his wife does. He's probably just as thrilled about the twins' arrival as his wife is, and considering how much he has publicly doted on Blue Ivy, referring to her glowingly in one of his verses as "my child with the child from Destiny's Child," he's likely an extremely proud papa. It's possible (even highly likely) that he merely wants to step aside during his wife's first few months as a mother so she can publicly relish the experience for herself, and that is awesome.
Yet his absence from the couple's few public announcements about the birth of the twins is telling, as is the fact that the Beyhive has said relatively little about said absence. That's not because it demonstrates his lack of involvement, but because it demonstrates how minor a role fathers still play in the cultural experience of motherhood — and how we, as a society, tend to unquestioningly accept it.
In recent years, dads have taken a larger role in raising their offspring. According to a Huffington Post analysis of U.S. census data, there were approximately 1.9 million stay-at-home dads in the United States in 2015 — a huge jump from the 1970s, when only six men (not 6 percent — six men) identified themselves as stay-at-home dads. Dads are also becoming more involved with housework: According to Pew Research Center figures, fathers also believe that they split the housework and child care evenly with their spouses (even though they actually don't).
Although fathers are becoming more prominent in the domestic sphere, that hardly changes the fact that with the exception of a few couples on your Facebook feed who use the term "we" to announce their pregnancies, the actual experience of new parenthood is rarely thought of as a joint effort. But as everyone who has taken a middle school health class knows, when it comes to conception, it takes two to tango. Consider also that JAY-Z has gotten virtually zero flak for the fact that his career has continued with no interruption following the birth of the twins — if Chrissy Teigen was brutally mom-shamed for going out to dinner after the birth of her daughter, imagine the uproar that would follow if Beyoncé went on tour immediately after Rumi and Sir were born.
The truth is, as thrilled as we are for Beyoncé and as much as we feel involved in her experience of pregnancy and motherhood, we are not involved at all — like, not even in the slightest. We know nothing about what kind of mom she is, and we know even less about what kind of dad JAY-Z is, and that's OK. Even mega-celebrities are entitled to their privacy, and that applies doubly to extremely private celebrities like Jay and Bey.
But representation matters, and the representation of fathers is no exception. We shouldn't necessarily be asking ourselves why Jay is absent from the twins' photo, but we can — and should — be asking ourselves why we are not asking ourselves this question: Why is it so normal for us to see a mother publicly claim the experience of motherhood, and not to wonder why the father does not make an appearance?