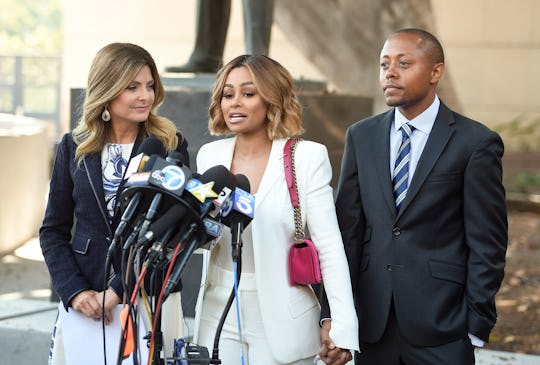 Matt Winkelmeyer/Getty Images Entertainment/Getty Images
This Quote About Blac Chyna Is Stunningly Powerful
Blac Chyna this week obtained a legal restraining order against her ex and the father of her child, Rob Kardashian, following a social media rant in which Kardashian allegedly posted several graphic nude images of Chyna on his Instagram and Twitter accounts. If you're looking to understand why Kardashian's alleged actions were disgraceful, there's one quote about Blac Chyna you need to read in particular. And it comes from an unlikely source.
In a statement from Chyna's new lawyer dated July 7, attorney Lisa Bloom explains that Chyna is filing temporary restraining orders from Kardashian based on the series of Instagram posts and tweets Kardashian allegedly posted about Chyna. The images, including the aforementioned nude photos, attempt to attack Chyna's character and her role as a mother, anchored specifically to past and present alleged sexual behaviors, Bloom argues.
Bloom and Chyna's statement, which reads like a letter to Kardashian, reminds him that "revenge porn is illegal" and that allegedly "cyberbullying your ex is harassment." In her message, Bloom perfectly nails why harassment would not be tolerated by anyone, least of all Chyna:
Chyna ended your relationship months ago and she has the right to live as she chooses, work as she chooses, dress as she chooses, date who she chooses, and be intimate with who she chooses.
Bloom was also sure to emphasize that, unfortunately, Chyna's situation was not at all unprecedented. "Chyna and I both believe that this is an important women's rights issue, as too many women and girls have been slut-shamed by exes," Bloom notes in the letter. In standing with Chyna, Bloom supports all who've been victimized by past partners, in nude photo leaks, through online harassment, and by attempted public shaming.
In securing this legal distance from Kardashian, Bloom and Chyna are also attempting to put him in his place. "It stops now," Bloom insists. "Your attempts to shame and control her are hereby rejected."
It's a heavy point: While you may not like what someone is doing, if you feel they're teasing you with a new partner or a new life, it still gives you no right to post sensitive images online with which they once entrusted you; It's just not OK. And it's still not OK, even if they're sent when you're not together. Weaponizing privacy and trust should never be done, as Bloom argues.
Chyna's reaction to Kardashian's social media posts so far have illustrated her hurt and distress, no matter what anyone might think. "This is a person that I trusted. I confided," she said, according to Page Six. "I felt comfortable, you know, with even sending these pictures and even talking to him about certain things, you know. I just felt... betrayed."
"The moral of the story is he doesn't respect me," Chyna claimed. "If you can't respect me, you have to respect the law." Luckily, Chyna has Bloom in her corner to help her in whatever court battles come her way. And as Bloom says in her statement, to anyone who might feel Chyna has no right to feel the way she does, "Her body, her choice. Her life, her choice. Back off."