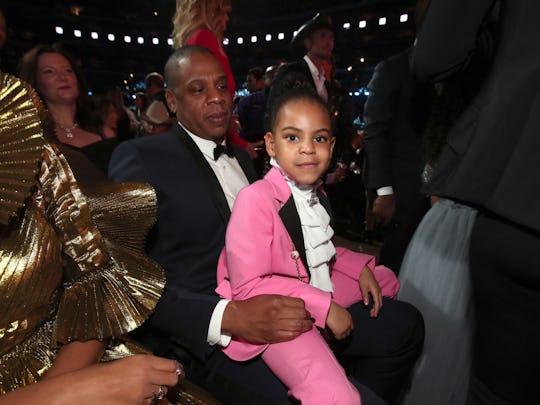 Christopher Polk/Getty Images Entertainment/Getty Images
The One Quote From Blue Ivy's Freestyle On '4:44' That's So Blue
Only a week after JAY-Z dropped a rather revealing album, 4:44, another Carter started making news for her new music. Before you run to the streets screaming, she's done it again — no, Beyoncé has not released another secret album (yet). This time, elder sister Blue Ivy has made news for her own tunes, and rightfully so, she's coming from a family with legacy. On Friday, Blue Ivy dropped her own freestyle in conjunction with JAY-Z's bonus tracks on 4:44 in a track called "Blue's Freestyle/We Family." The full 45-second clip is great, she's a Carter, but there's one quote from Blue Ivy's freestyle on 4:44 that will leave you screaming and saying, "Yep, that's Beyoncé's daughter."
Blue Ivy, the eldest Carter child, is already leaving Twitter shook from her quick freestyle on her father's album. (Although, let's not forget this isn't the first "feat. Blue Ivy" we've been gifted. Beyoncé did it first with "Blue ft. Blue Ivy" in 2013.) There are mixed reviews as to how she did on her first true freestyle collab, but that's neither here nor there. It's more about what the 5-year-old artist (yes, artist) is saying in her freestyle.
Some of the lines are a indistinguishable, but nevertheless adorable.
Everything everything this my only single thing / Everything I hear is my answer / And if you think I say, then [?] / I never hear that, I be in the posse / Never seen a ceiling in my whole life / Everything I seen, everything is rotten / Never sit in silence [?] Carter / Innocent we seek them / I and say we see them / [?] / Boom shakalaka / Boom shakalaka / Boom shakalaka / Boom shakalaka / Everything in shaka / Everything in faka / Everything in shaka / Everything in faka
And while we'll have to wait for the CD jacket to reveal the full lyrics (JK, we'll use the internet's genius decipherers, this isn't 2004), there's one lyric we can't ignore:
Never seen a ceiling in my whole life
That. Is. A. Quote. And as all the Carters deserve, it is a quote that needs to be chatted about for a quick sec. "Never seen a ceiling in my whole life," Blue Ivy says. Is she singing about the glass ceiling? Or is this quote less nuanced than that, and really just talking about Blue Ivy's (possible) high-ceiling home that comes with having Grammy Award-winning parents?
It's not crazy to think Blue is giving us a fireside feminism chat with talks of a ceiling, and her ignoring the sh*t out of it. In February, some took note of the pink Gucci cat bag Blue Ivy toted to the Grammy Awards. While you can't blame a 5-year-old girl for wanting everything pink and glittery (and Gucci, when your mom is Beyoncé), some (resisting) commentators compared the tiny clutch to that of the pink Pussyhat that many women wore to the March on Washington after Donald Trump's inauguration.
This quote may be a nod to Blue Ivy's deep love of feminist inspirations who speak of breaking the glass ceiling and fighting and resisting against a patriarchal society. Or, as Twitter is pointing out, it could be because she's just Blue Ivy Carter, Daughter of JAY-Z and Beyoncé, first in line to the (now maybe defunct) Throne. She doesn't have ceilings to hit because she's got a sparkly Gucci bag on her shoulder and not a care in the GD world.
As Twitter user @BarzdaLyricist says, "the sky is the limit" for Blue Ivy, and if that is in fact what she's going on about, then more power to you Blue. I hope you never see that ceiling and that your limits know no boundaries.
Of course, it points out her immense privilege, but she's 5 years old, and a budding artist, and — I'll say it once more — a Carter. She's probably one of the few 5-year-olds who is able to say something like this and get away with it.
Keep doing you, Blue. Before you know it, mom and dad will be "feat." on your tracks.